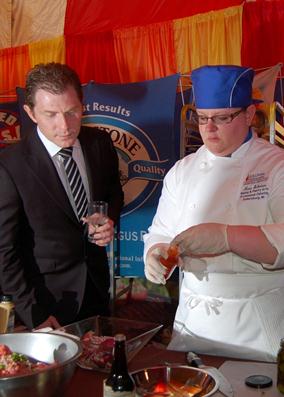 On May 5 at the second-annual Taste of Derby, three Sullivan University students participated in a burger competition sponsored by Creekstone Farms. Chef judges Bobby Flay, Kent Rathbun and Jo-Jo Doyle awarded Kara Schnaus the $5,000 scholarship prize for her Kara's B-5 Burger. The original recipe featured Creekstone Farms Black Angus ground chuck seasoned with garlic and jalapeño, spicy mayonnaise, caramelized onions and Swiss cheese served on an onion poppy-seed bun.
Schnaus, a fourth-quarter student at Sullivan, is from Sellersburg, Ind. Her husband is retired from the military and they have four children and one grandchild. She beat out fellow contestants Jeff Roszkowski and Gary Bajdek, who along with Schnaus won their spots in the final cook-off during a preliminary competition at Sullivan University. The three contestants were given a pantry of items and 30 minutes during the Taste of Derby celebration to create their signature burgers.

Pictured: Celebrity chef judge Bobby Flay and Sullivan University student Kara Schnaus.