Kendall College School of Culinary Arts Student Wins Weeklong Culinary Excursion to Taiwan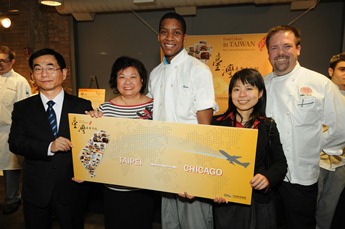 Kendall College School of Culinary Arts student Tayler Moore, a 20-year old sophomore pursuing his bachelor's degree in culinary arts, won an all-expenses-paid weeklong trip to experience the foods and flavors of Taiwan in the first cookoff of its kind at Kendall College on Dec. 12. The competition, hosted by the Taipei Economic and Cultural Office (TECO) in Chicago, highlighted the official launch of Taiwan's Government Information Office's multilingual Web site (http://taiwanfoodculture.net) celebrating Taiwan's diverse foodways. Moore's winning dish featured a chicken thigh fabricated to resemble a lollipop.
"I feel blessed," said an excited Moore when his win was announced. "I can't wait to go to Taiwan." Prior to the cookoff, Moore spent considerable hours researching Taiwanese cooking online, and developed a few possible entries before ultimately choosing "Taiwanese-Style Three Cup Chicken." The dish's name comes from Moore's use of a cup each of soy sauce, dry sherry and sesame oil, seasoned for depth and balance and reduced to create a rich sauce. For the judges, Moore presented the chicken-thigh "lollipop" over a bed of pickled mustard greens, spooned sauce over the chicken, and crowned the dish with a vinaigrette-dressed salad of Thai basil and cilantro. A drizzle of chili oil finished the presentation.
Competing Kendall students had 90 minutes to prepare four portions of their entries, which were evaluated on flavor and proper seasoning, plate presentation, texture/mouthfeel and proper doneness. Although encouraged to elevate homestyle dishes and typical Taiwanese street foods to make them marketable within a fine-dining setting, students were instructed to strive for authenticity of cooking methods and ingredients use. So impressed were judges with the overall caliber of entries that the top four dishes scored within a mere two-point spread. (Two students tied for second place; the third-place student scored two points below Moore.)
Judging the cookoff were Baushuau Ger, director general of TECO in Chicago; Christopher Koetke, CEC, CCE, executive director of the Kendall College School of Culinary Arts and vice president of Laureate International Universities Center of Excellence in Culinary Arts; and Meilie Tsai of the Taiwan School in Lombard, Ill. Tsai, who will chaperone Moore in Taiwan during his weeklong culinary excursion, worked with competing Kendall College students weeks in advance of the cookoff to instruct on basic principles of classic and contemporary Taiwanese cooking.
"Here at Kendall, we are totally committed to the education of our students, and this kind of competition is amazing for a lot of reasons," Koetke said. "We work with governments around the world, and the government of Taiwan suggested that a culinary competition would encourage students to learn more about Taiwanese cuisine. Every student in this cookoff took that challenge very seriously. Although only one student will go to Taiwan, everyone learned a lot, and that makes them all winners."
---
Photo: (l. to r.) Ger, Tsai, Moore, Mei-chuan Chen (executive press officer, Taipei Economic and Cultural Office in Chicago), Koetke. Credit: Kendall College/Eric Futran