Ronald DeSantis, CMC, AAC, CHE, of Yale University Named ACF Certification Commission Chair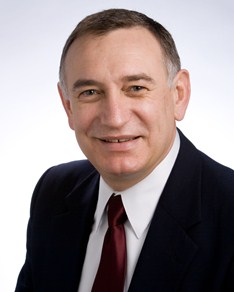 Certified Master Chef® (CMC®) Ronald DeSantis, AAC®, CHE, of Staatsburg, N.Y., began his two-year term as chair of the American Culinary Federation, Inc. (ACF) Certification Commission at the group's bi-annual meeting in Orlando, Fla., Jan. 13-14. DeSantis, director of culinary excellence and quality assurance for Yale Dining at Yale University, New Haven, Conn., says he and the commission's 16 other current members will focus on increasing the awareness and credibility of ACF certification.
"My vision for the commission is to develop and project the message of certification relevance beyond ACF," DeSantis said. "Members know certification's value and importance. We need to make the dining public and foodservice employers aware of the value of certified chefs."
ACF certification is based on education, experience and completion of official coursework and exams. ACF certification credentials distinguish culinary professionals as leaders in the culinary field, and demonstrate skill and expertise to peers and potential employers. Currently, more than 11,500 professionals hold ACF certification.
Since its inception in 2007, the ACF Certification Commission has been developing, implementing and monitoring a validated process of globally recognized certifications based on skills, knowledge, integrity and equality through an achievable process for all culinary professionals. The commission was formed in order to meet the National Commission for Certifying Agencies (NCCA) accreditation standards to obtain accreditation from the Institute for Credentialing Excellence (ICE). In August 2011, ACF's Certificated Executive Chef® (CEC®) designation was accredited, making it the first and only culinary credential accredited by ICE. The commission is now in the process of accrediting its Certified Sous Chef™ (CSC™) designation and will seek accreditation for its Certified Executive Pastry Chef® (CEPC®) designation in 2013.
The Certification Commission comprises professionals with experience in culinary, media, marketing, management, education and government. Commission members represent many different levels of ACF certificants. In addition to DeSantis, Certification Commission members are:
Past chair Derek Spendlove, CEPC®, CCE®, AAC®, baking and pastry chair, Sullivan University, Louisville, Ky.
Chair-elect Donald Dickinson, CEC®, CCA®, AAC®, culinary-division director, Institute of Technology, Citrus Heights, Calif.
Alex Askew, president, Black Culinarian Alliance, North Babylon, N.Y.
Kirk Bachmann, CEC®, AAC®, president, Le Cordon Bleu College of Culinary Arts in Chicago, Chicago
Brad Barnes, CMC®, CCA®, AAC®, senior director, culinary education, The Culinary Institute of America, Hyde Park, N.Y.
Chief Warrant Officer 4 (CW4) Russell Campbell, CEC®, chief, Advanced Food Service Training Division, U.S. Army, Fort Lee, Va.
Wendy Chan, president, Definity Marketing, New York
Karl Guggenmos, AAC®, university dean of culinary education, Johnson & Wales University, Providence, R.I.
Erica Lattimore, CC®, banquet chef, Cincinnati Marriott North, West Chester, Ohio
Jeanette Scarcella, culinary relations/program officer, Johnson & Wales University, Providence, R.I.
Leonard Scranton, CEC®, CCA®, region vice president, Morrison Management Specialists, Atlanta
Renee Shortlidge, CSC™, purchasing coordinator, Johnson County Community College, Olathe, Kan.
Travis Smith, CEC®, CCA®, AAC®, executive chef and educator, The International Culinary School at The Art Institute of Colorado, Denver
Nick Versteeg, producer/director, DV Media/DVCuisine, Duncan, British Columbia, Canada
B.J. Whitmore, CEC®, chef manager, Sodexo Campus Division, Hospers, Iowa
Grace Yek, CCC®, assistant professor/chef-instructor, University of Cincinnati/Midwest Culinary Institute, Cincinnati
At Yale University, DeSantis provides leadership for all facets of culinary-concept design, development of innovative menus and cuisine and training of a culinary team. Prior to joining the staff in November 2011, he worked at The Culinary Institute of America (CIA), Hyde Park, N.Y., as director of CIA Consulting, as director of education services and as a professor in the culinary-arts department. DeSantis is a 1981 CIA alumnus. He earned a Basic Food Service Certificate from the U.S. Marine Corps and a master's in business administration (MBA) from Empire State College in Saratoga Springs, N.Y. He has held positions in restaurant kitchens worldwide, including chief cook for the U.S. Marines, Okinawa, Japan; banquet cook, The Ritz-Carlton, Chicago; commis de cuisine, The Grand Hotel Continental, Munich, Germany; chef de partie, Michels' Küche Restaurant, Bamberg, Germany; and chef de cuisine, Restaurant Böttingerhaus, Bamberg. He is a member of Mid Hudson Culinary Association.
Learn more about ACF's certification program and the value of certification by viewing a video available at www.acfchefs.org/Certification-Accreditation.