CIA President Tim Ryan Receives Inaugural Farm-to-Table Award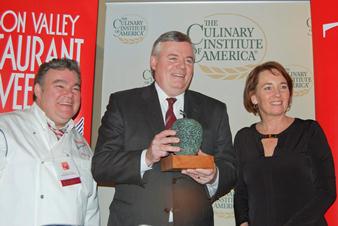 Dr. Tim Ryan, CMC, president of The Culinary Institute of America (CIA), is the recipient of The Valley Table magazine's first Farm-to-Table Award recognizing leadership in the support of regional agriculture. The award was presented to Ryan at the Hudson Valley Restaurant Week launch event at the college on February 28, 2012.
"The CIA's commitment to sourcing ingredients and produce from regional farms has been a tremendous boon to farming in the Hudson Valley," said Janet Crawshaw, publisher of The Valley Table and organizer of Restaurant Week. "Lessons in sustainable agriculture and sustainable cuisine have been integrated into the college curriculum, so the CIA is graduating chefs with a heightened awareness of and appreciation for local farm products."
The CIA spends $750,000 annually buying local fruits, vegetables, eggs, dairy, honey and meat from 30 Hudson Valley farms within 35 miles of the Hyde Park campus. That figure continues to grow (in every sense of the word) each year.
"We realize the importance of the link between chefs and the farmers, producers, and growers who nurture and harvest the food we all enjoy day after day. Our students know this too," Ryan said, accepting the award in honor of all those who work hard to provide the fresh ingredients used in restaurant and home kitchens. "This next generation of chefs has developed an appreciation for local and sustainable ingredients that will carry us well into the future."
The actual Farm-to-Table Award is an original bronze sculpture of a bule apple gourd designed and cast by Hudson Valley-based artist, writer, gardener, and heirloom seed advocate Amy Goldman. The piece is part of her Rare Forms series of bronzes. The base was created by Jessica Wickham, a woodworker in Beacon, N.Y.
Hudson Valley Restaurant Week runs from March 18–31, 2012. It is the largest and most successful culinary event in the region and one of the largest restaurant weeks in the country. Hudson Valley Restaurant Week is produced by The Valley Table, which has covered the food and farm scene in the Hudson Valley since 1998.
---
Photo: CIA President Tim Ryan received The Valley Table magazine's first-ever Farm-to-Table Award during Hudson Valley Restaurant Week kickoff celebration held at the CIA's Hyde Park campus on February 28, 2012. With Ryan are chef-restaurateur Peter X. Kelly (l.), co-chair of 2012 Restaurant Week, and The Valley Table publisher Janet Crawshaw, organizer of Hudson Valley Restaurant Week. Courtesy of CIA/Simon Solis-Cohen