New Dining and Lodging Experience in Greater Chicago Provides Real-Life Training to College of DuPage Students without Their Leaving Campus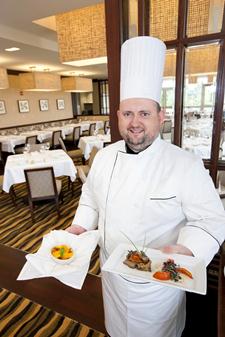 When the state-of-the-art, 60,000-square-foot Culinary & Hospitality Center opened on the College of DuPage campus in Glen Ellyn, Ill., just west of Chicago in October 2011, culinary-arts and hospitality students got a bonus: a fine-dining restaurant and boutique hotel. The Waterleaf Restaurant, serving lunch, dinner and Sunday brunch, and six-room Inn at Water's Edge give students in the college's Culinary Arts and Hospitality program the opportunity to gain real-life experience working alongside professionals.
Guests of the inn discover the comforts of a world-class boutique hotel: from the eco-friendly design and the French doors overlooking a pond surrounded by a lavishly manicured landscape to the vaulted ceilings that allow the room to fill with natural light.
Other amenities include luxurious bathroom touches, wireless Internet, a flat-screen TV and more. Services include private keyed access to the hotel floor and rooms, a concierge lounge serving Continental breakfast daily, bell staff offering luggage assistance, in-room dining service for lunch and dinner available through Waterleaf, and special touches like a nightly turndown service. Nightly rates range from a reasonable $99 to $129. The inn allows College of DuPage students to complete hands-on training in all service areas.
The elegant 150-seat Waterleaf Restaurant reflects the environmentally friendly building (the Culinary & Hospitality Center earned LEED silver certification) in which it's housed with cool earth tones and neutral design accents. The restaurant is adorned with a black-and-white lithograph collection from world-renowned American artist Richard Serra. The contemporary space features a full-service bar complete with lounge area and marble stacked fireplace. With floor-to-ceiling windows throughout, the restaurant is bathed in natural light. During warmer months, additional seating is available on the outdoor patio complete with a fire pit.
Featuring locally grown, seasonal ingredients and precise service, Waterleaf Restaurant offers a contemporary approach to fine dining. Every Monday and Thursday through Sunday, the regular Waterleaf dinner, lunch and brunch menus are available; on Tuesdays and Wednesdays, diners can savor College of DuPage culinary-program dinners created and served by students.
Executive Chef Jean-Louis Clerc comes to Waterleaf Restaurant with more than 16 years of professional cooking and management experience. Specializing in French and international fine dining, Clerc envisioned a balanced selection of French and Italian favorites interpreted with contemporary flair. Featured dishes include premium artisanal cheeses, charcuterie, seared foie gras, risotto, housemade pastas, fresh seafood and steaks in addition to daily seasonal specials like braised lamb shank, roast duck, osso buco, braised beef short ribs and more. More than 160 wines were carefully selected to showcase smaller, boutique wineries around the world.
Born and raised in La Couarde-sur-Mer on the Île de Ré in southwestern France, Clerc as a child was surrounded by good food and fine wine. His father was also a chef, introducing Clerc to the restaurant business when Clerc was 9 years old. This culinary background fueled by his passion led him to earn two culinary diplomas in France. Since then, he has worked alongside some of Europe's best chefs in Michelin-starred restaurants in England and France, as well as the Caribbean. Clerc served ARAMARK in greater Chicago as a chef manager before arriving at Waterleaf.
"We are most pleased to add this exquisite dining and hospitality experience to the Chicago region," says Robert L. Breuder, College of DuPage president. For more information about Waterleaf Restaurant, visit www.waterleafrestaurant.com; for the Inn at Water's Edge, www.innatwatersedgehotel.com.
Caption:
The Waterleaf Restaurant's executive chef, Jean-Louis Clerc.