ProStart Graduate Receives Scholarship to California Culinary Academy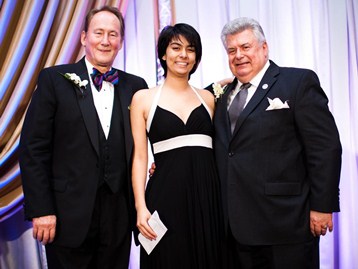 The National Restaurant Association Educational Foundation (NRAEF) proudly announced last autumn that NRAEF ProStart alumna Jazmin Eck was awarded a full scholarship to California Culinary Academy in San Francisco, where she planned to begin her education in September. Eck was chosen for the scholarship while attending the 25th Annual NRAEF Salute to Excellence awards held on May 21, 2011, in Chicago.
"The ProStart program unites industry and the classroom to create life-changing opportunities for students," said Lynette McKee, executive director of the NRAEF. "This was brought to life at Salute to Excellence when Jazmin networked with key industry leadership from across the country and received this incredible opportunity to further her education and career development with our partners at Le Cordon Bleu."
Eck was on top of the world. She was a member of the first-place culinary team at the NRAEF's ProStart Invitational and was accepted to attend Le Cordon Bleu. But like many high-school students during these tough economic times, her lack of funds threatened her ability to attend the school of her dreams.
When Ferdinand Metz, CMC, executive dean and chairman of the LCB National Advisory Board at Le Cordon Bleu, heard about Eck's fate, he and Bert Cutino, CEC, AAC, chef and co-owner of The Sardine Factory in Monterey, Calif., came to the rescue and offered Eck a full scholarship. Now, Eck is applying her scholarship to a 12-month Baking & Pâtisserie certificate program at California Culinary Academy, and is enjoying every moment.
"When I met Jazmin at Salute to Excellence, I knew immediately that she would thrive as a Le Cordon Bleu student," said Metz. "Her passion for culinary arts and dedication to furthering her education are inspiring. I look forward to watching her education progress and will be proud to call her a Le Cordon Bleu alumna."
---
Photo: Jazmin Eck receives a full scholarship to California Culinary Academy from Le Cordon Bleu's Ferdinand E. Metz (l.) and The Sardine Factory's Bert Cutino.