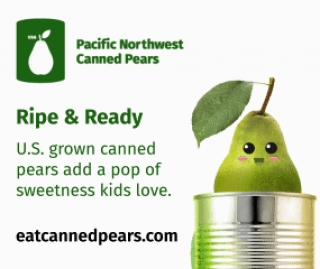 Monday, 05 April 2021 12:43

PEARFECTION CHEESECAKE RECIPE CONTEST Official Rules
PARTICIPATION
The Pearfection Cheesecake Recipe Contest ("Contest") is open to baking and pastry culinary school instructors.
ELIGIBILITY
Entrants must be 18 years of age or older. Void where prohibited by law.
HOW TO ENTER
A complete entry will consist of:
1) Clear digital photo of your Pearfection Cheesecake, and
2) Recipe name and complete recipe, including your:
Name
Title
School you are affiliated with
Preferred email to reach you
Best phone number to reach you
Address
Entries that do not meet all of the entry requirements will be disqualified.
Entries must be submitted online This email address is being protected from spambots. You need JavaScript enabled to view it... Pear Recipe contest must be in the subject line. Multiple entries may be submitted. Incomplete entries will not be accepted.
ENTRY DEADLINE
Deadline for entry is May 1, 2021 at 11:59 pm Pacific Time. Winners will be notified no later than May 28. Winners will be notified by email.
ENTRY REQUIREMENTS
Entrants should check the can label for "Product of USA" to be sure they are using canned pears that are grown and packed in the U.S.
The entry must include Pacific Northwest Canned Pears (halves, sliced, or diced) packed in juice or light syrup featured as an ingredient in a recipe.
Entries will be accepted until 11:59 pm Pacific on May 1.
ENTRY JUDGING
All eligible entries will be reviewed and tested for judging by Pacific Northwest Canned Pear Service and/or its agents. All decisions are final, binding, and non-disputable.
Entries will be judged on the following criteria, in the judges' assessment:
Creative use of canned pears (25%)
Canned pears are integral to success of recipe (25%)
Flavor and texture (50%)
First, Second, and Third place winners may be asked to provide proof that their entry uses U.S. grown canned pears.
PRIZES
Winners will receive checks in the amount of:
First Place: $1,000
Second Place: $500
Third Place: $250
All entrants who submit a complete and eligible entry will receive a $10 Starbucks Gift Card from Pacific Northwest Canned Pear Service.
Any and all taxes on total prize values are the sole responsibility of the winners. Cash prizes will be awarded by Pacific Northwest Canned Pear Service subject to entrant's company policy. The entrant is solely responsible for confirming pertinent policies and laws. If a winning entrant's company prohibits the distribution of cash or other prizes, then the prize may be awarded to the company rather than the individual.
GENERAL CONDITIONS AND RESTRICTIONS
By submitting an entry, each entrant grants Pacific Northwest Canned Pear Service nonexclusive rights to use the information and photos included in the entry and any resulting prize information for advertising and promotional purposes.
Pacific Northwest Canned Pear Service and its growers, processors, members, board, staff, and respective partners are not responsible for lost, late, incomplete, stolen, inaccurate, misdirected, or undelivered entry materials, or errors or problems of any kind in connection with this Contest.