Recently Opened Tuyo at Miami Culinary Institute Sets the Table for Food-Culture Innovation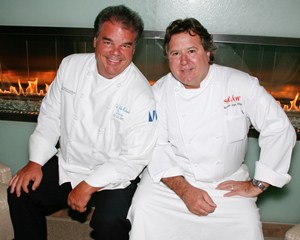 Since its opening last spring, the Miami Culinary Institute (MCI) at Miami Dade College (MDC) has made an immediate impact on the community and beyond with a cornucopia of programs and activities that please the palate whether one is a student, food enthusiast or culinary-industry professional. Last autumn, the Institute turned up the heat with the opening of its rooftop restaurant, Tuyo, an exquisite fusion of New World cuisine under the direction of award-winning chef Norman Van Aken.
"This is a momentous occasion for the college and the Florida culinary scene," says college president Dr. Eduardo J. Padrón. "We set out to be revolutionary with the MCI, and Tuyo is a key ingredient in carrying out this vision."
Tuyo is the crown jewel sitting atop the Miami Culinary Institute offering spectacular views of Biscayne Bay and the Miami skyline. Tuyo infuses its trailblazing menu with the Institute's state-of-the-art approach to the culinary arts, setting the table for food- culture innovation by focusing on environmentally sound practices and drawing upon the food grown locally and in the Institute's organic garden.
Leading the way at Tuyo is Van Aken, the only Floridian to have also been awarded the James Beard Foundation's Who's Who of Food and Beverage in America, and recipient of dozens of other culinary awards and honors, including having been officially recognized as one of the "Founders of the New American Cuisine" at Spain's Madrid Fusión event in 2006. Author of several books, Van Aken describes his revolutionary blend of exotic flavors and influences that have evolved into New World Cuisine, the gourmet celebration of Latin, Caribbean, Asian, African and American flavors.
"Tuyo provides me a canvass like no other restaurant I have owned or operated in the past," says Van Aken, director of restaurants for MCI. "It's the most extremely rewarding thing I have done in more than three decades in the restaurant industry because now I get to directly influence the next generation of great chefs."
The menu offers à la carte offerings as well as prix-fixe tastings, with a sommelier selection option. Guests enjoy the cuisine that has become a hallmark of Van Aken's career, as well as special events featuring visiting chefs. Members of MCI's Chef's Council—including renowned chefs Michelle Bernstein, Cindy Hutson, Douglas Rodriguez, Philippe Ruiz, Michael Schwartz, Rudi Sodamin, Allen Susser and José Andrés—regularly prepare special menus for one-night-only events.
Building upon Miami Dade College's rich history, with the leadership of founding director Chef John Richards, the Miami Culinary Institute blends technology, sustainability and world-class education to set the pulse of Miami's cuisine and food culture. The Institute offers a curriculum steeped in green-sustainable food and energy technologies and customized professional development for corporate and educational partners worldwide.
The eight-story Institute at the College's Wolfson Campus is an architectural and engineering marvel that focuses on exceptional space utilization and generating a limited carbon footprint. It features general kitchen and baking labs, a food-and-beverage theater with global connectivity capabilities through the latest A/V technology, a first-floor café and bakery and now, on the top floor, the Institute's exceptional gem: Tuyo.
---
Caption: Chefs John Richards and Norman Van Aken. Courtesy of MCI/Moris Moreno