The American Culinary Federation Makes Culinary Training Easy with New ACF Apprenticeship Training Modules and Book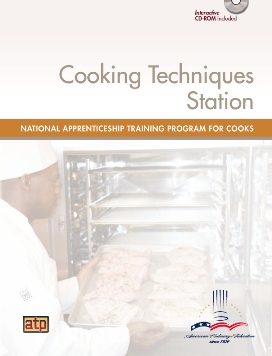 Do you want to teach your staff or students about a specific area of the professional kitchen? Are you looking for a comprehensive yet concise resource? If so, the American Culinary Federation's (ACF) latest series, National Apprenticeship Training Program for Cooks, and its accompanying CD-ROM resources, is for you. Compiled and published by American Technical Publishers (ATP), the 10 modules are available for $25 each, with a 25% discount for purchases of five or more. A compiled textbook, containing content from each of the modules, is also available for $80.
The series outlines culinary techniques that have been validated by the culinary industry and sanctioned by the U.S. Department of Labor and the American Culinary Federation Education Foundation (ACFEF) National Apprenticeship Committee. Each month, ACF will highlight a new module on its website, www.acfchefs.org
.
"The ACFEF Apprenticeship Program is a proven, successful method for culinary training that offers on-the-job training and related instruction," said Michael Ty, CEC, AAC, ACF national president. "By breaking down the program's 10 stations into learning modules, as well as a book, companies can access the same educational information that our apprentices have relied on for more than 30 years. We hope this series will be used by restaurant groups, foodservice companies, the military and individuals."
The Cooking Techniques Station module (33 pages) focuses on techniques that can be used throughout one's culinary career, from sautéing to roasting. The lessons enable learners to prepare a variety of poultry meat and vegetable dishes. The module also includes information on sustainability practices, such as recycling disposable goods.
Cooking Techniques Station Overview
The Cooking Process
Dry-Heat Cooking Techniques
Moist-Heat Cooking Techniques
Combination Cooking Techniques
Plated Presentations
Key Terms
Sustainability Corner
Certification Exam Preparation Questions
Special Features
Each module is accompanied by a CD with additional educational and review tools, including:
Quick Quiz®
Illustrated Glossary
Flash Cards
Media Clips
Checkpoints
Culinary Math Applications
Certification Exam Preparation
In addition to this station, the National Apprenticeship Training Program for Cooks series includes: Soup & Sauce; Vegetables, Starch & Pasta; Breakfast; Baking & Pastry; Broiler/Char-Grill; Fabrication; Pantry & Cold Foods; Steward; and Supervisory Development.
To learn more and to purchase the Cooking Techniques station module, number 4193, visit www.go2atp.com.