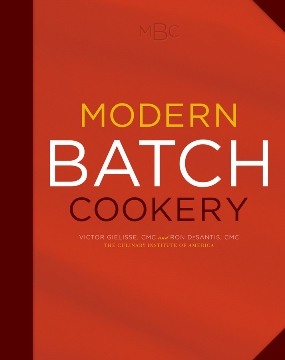 Preparing healthy, high-quality food in volume is a challenge for even the most experienced foodservice professionals. MODERN BATCH COOKERY (Wiley Hardcover, $65.00), written by Victor Gielisse, CMC, and Ron DeSantis, CMC, is a complete guide to volume cooking for restaurants, caterers, hotels and other large foodservice operations, offering up-to-date information with a focus on healthy cooking, nutrition and smart menu planning. The recipes in MODERN BATCH COOKERY are designed to yield 50 servings, and cover every meal and every occasion. Features include:
More than 200 healthy, nutritious, large-batch recipes such as Gorgonzola and Pear Sandwiches, Tequila-Roasted Oysters with Salsa Cruda, Chesapeake-Style Crab Cakes and many more.
Chapters on Stocks, Soups, and Sauces; Breakfast and Brunch; Salad Dressings, Salads, Sandwiches, Appetizers; Entrées; Side Dishes; Reception Foods; and Baked Goods and Desserts
Conversion charts and a glossary, as well as full-color photos of finished dishes that provide fresh ideas for plating and presentation
All the essentials of menu and recipe development
MODERN BATCH COOKERY is a comprehensive resource for all culinarians and foodservice operators working in (but not limited to) resorts, hotels, college foodservice, healthcare, retirement communities, banquet facilities, country clubs and on-site catering companies.
For more information, or to request a review copy, visit Wiley—MODERN BATCH COOKERY.