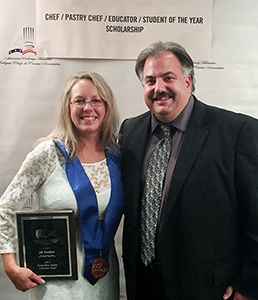 A student and an instructor from Baker College of Port Huron Culinary Institute of Michigan (CIM) have each received a major award from the Michigan Chefs de Cuisine Association (MCCA), a chapter of the American Culinary Federation (ACF) serving the southeastern part of the state.
Jill Tucker of St. Clair was named 2014 Student Chef of the Year champion, and adjunct instructor and wine sommelier Michael Schafer, J.D., of Troy received the Associate Member of the Year award before more than 250 MCCA members at the organization's 2014 Annual Awards Gala at Oakland Hills Country Club in Bloomfield Hills, Sept. 29.
"This recognition signifies the depth of our young program, and it is a testament to the quality of our students and instructors," says F. James Cummins, Baker College System president and CEO. "From students to faculty, our people are our strength and the reason for our excellence. We're very proud of Chef Recinella and his staff who are already producing award-winning talent at the CIM Port Huron."
Tucker earned her new title by competing against eight students who represented other collegiate culinary programs in southeastern Michigan on Aug. 12. Each competitor prepared two portions of a signature dish in 60 minutes while adhering to exacting ACF guidelines. Tucker prepared a duet of chicken accompanied by an asparagus pesto-filled agnolotti pasta and a vegetable mélange.