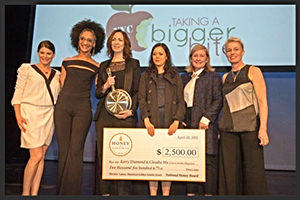 The National Honey Board (NHB) presented the first-ever Laurey Masterton Golden Amulet Award at the 2015 Women Chefs & Restaurateurs' (WCR) Conference and Gala Awards Dinner on April 20 in New York City.
Recognizing trailblazing women entrepreneurs in foodservice, the inaugural award and $2,500 cash prize were presented to Kerry Diamond and Claudia Wu, founders of Cherry Bombe magazine, by National Honey Board CEO Margaret Lombard.
Golden Amulet Award winners Diamond and Wu had a vision for a print magazine highlighting women in the food industry, while still employing the aesthetic qualities of a fashion magazine. After a successful Kickstarter campaign in 2013, their vision became a reality as Cherry Bombe magazine, which was soon followed by a complementary radio show, Radio Cherry Bombe.