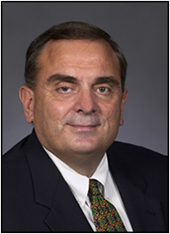 Joe Perdue, CCM, CHE, the club industry's leading hospitality educator, died in Atlanta on Jan. 19, 2015, after a long illness. He was 64.
Since 1986, Perdue had served as academic advisor for the Alexandria, Va.-based Club Managers Association of America (CMAA). Responsible for the initial development of CMAA's Business Management Institute (BMI), Perdue coordinated more than 300 weeklong BMI programs for more than 10,000 managers. The Business Management Institute is a flourishing professional-development program that has become the most well-respected education initiative of the hospitality industry. Beyond the United States, Perdue developed professional education programs in China, South Africa, Europe and Canada.
In addition to serving as academic advisor, Perdue held the positions of director of education and vice president for CMAA, where he was responsible for all professional-development and certification programs. He continued to have responsibility for overseeing CMAA's BMI program and certification exam, study materials and certification review course.