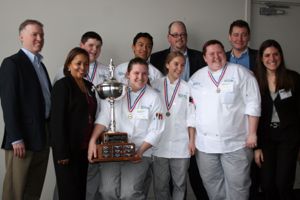 A sea bass, a chicken and a mousse—that's the menu that sealed the third straight ProStart state championship for the culinary team from Technology Center of DuPage (TCD) in Addison, Ill. The team competed Feb. 8 at the 13th Annual Illinois ProStart® Student Invitational for high-school culinarians, hosted by the Illinois Restaurant Association Educational Foundation (IRAEF) at Kendall College in Chicago.
The champion culinary team includes: Kristy Fogle, senior (Aurora); Mary Hoare, junior (Wheaton); Courtney O'Neal, senior (Glen Ellyn); and Julio Valeriano, senior (Wood Dale). Jacob Stellmach, another senior from Aurora, is the team alternate. Their first-place state win includes thousands of dollars in scholarship awards. As the state champ, the TCD team has the honor of competing as "Team Illinois" in the culinary competition at the National ProStart® Invitational, May 3-5 in Minneapolis.
All team members are enrolled in TCD's Culinary, Pastry Arts & Hospitality Management program as an elective part of their respective high schools. Fogle and Stellmach attend Waubonsie Valley; Hoare, Wheaton North; Valeriano, Fenton H.S.; and O'Neal, Glenbard West. Technology Center of DuPage (www.tcdupage.org) offers 20 advanced career and technical education electives to DuPage-area juniors and seniors through a partnership among 14 high-school districts.