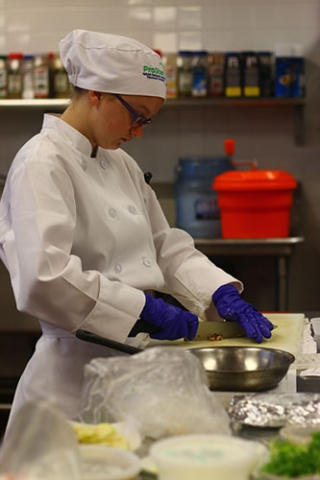 FCCLA's HS Culinary Arts Competition: Unlimited Possibilities
Top teams awarded more than $500,000 in scholarship money during FCCLA annual leadership conference.
By Reno Palombit, FCCLA Family and Consumer Sciences Education Program Specialist
For almost 75 years the Family, Career and Community Leaders of America (FCCLA) have been providing opportunities for secondary-level Culinary Arts programs to prepare the next generation of chefs. This year's National Leadership Conference welcomed over 7,500 student leaders, members, and advisers to The Music City, united with the theme "Unlimited Possibilities!" Thirty-five teams comprised of 97 students came to showcase their culinary skills and abilities for the national Culinary Arts STAR Events competition on July 5, 2017.
The competition was hosted by The Art Institute of Tennessee- Nashville, who provided the competition menu featuring Endive and Frisse Salad with Apples and Gorgonzola, Teres Major Steak Dijonaise, and Potato Parsnip Puree. Working in teams up to three, FCCLA members were evaluated by industry professionals in the areas of safety and appearance, team organization, food production, and food taste and presentation.
Coming out on top was the North Carolina team from East Mecklenburg High School. Their teacher and FCCLA Advisor, Dale Richardson said, "I'm so proud of Blair Riggsbee and Jensine Crowder for their hard work and dedication! They planned and prepared extremely hard for the competition, practicing hundreds of hours during and after school. They have a very bright future ahead of them and I'm so grateful to have been a part of their journey- it was their dream come true!" Riggsbee works at Charlottee Country Club with the goal of becoming a culinary arts teacher. Crowder is a rising senior, looking to narrow her interests in the field of culinary arts and hospitality. Close on their heels was California's team in second place and Oklahoma's team in third.
Together, the top teams were offered $578,415 in scholarships from The Auguste Escoffier School of Culinary Arts, The Culinary Institute of America, Johnson & Wales University, The Art Institutes, Kendall College, and Sullivan University.
---
About FCCLA

Family, Career and Community Leaders of America (FCCLA) is a dynamic and effective career and technical student organization that helps young men and women become leaders and address important personal, family, work, and societal issues through Family and Consumer Sciences education. FCCLA has more than 164,000 members and more than 5,300 chapters from 49 state associations, in addition to Puerto Rico and the Virgin Islands.
Photo courtesy of FCCLA.