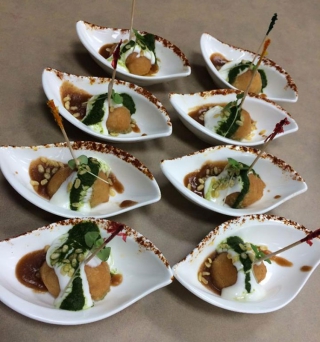 Culinary Students from Oakland Community College Compete in Second Kontos Foods Culinary Challenge
Kontos Foods, Inc. sponsored the event, which was held at the school's Orchard Ridge Campus in Farmington Hills, Mich., and culminated with a monthly meeting of the Michigan Chefs de Cuisine, the Michigan chapter of the American Culinary Federation.
Top winners were awarded $250 Visa gift cards: The Savory top honor went to an Indian-style dish, which also had the highest overall score of the entire competition. It contained a tasty lentil filling and was topped with chutney and puffed rice, redolent of Indian street food. The top sweet category winner emerged with a tiebreaker vote, handing victory to an apple parfait with Kontos International Pastry Puffs built into the base.
Called Loukoumades in Greek culture, Kontos International Pastry Puffs are universal and delicious—similar to Zeppole or Beignets. Aspiring chefs stretched their imaginations: the other contestant dishes (which won runners-up awards of garde manger sets of chef tools) included two desserts: an apple bourbon bread pudding and a pastry with sweet goat cheese and a pomegranate sauce, followed by savory dishes: an appetizer of beef tenderloin with caramelized onion and a gourmet BLT. Five judges, including Kontos Foods Corporate Executive Chef Demetrios Haralambatos, and Chef Susan Baier, FMP, Program Coordinator the Culinary Studies Institute, rated the food on a 25-point scale based on the following criteria: taste, creativity, presentation and practicality.
The winners were:
Sweet
Charles Moceri
Jennifer Day
Barbara Nunnold
Savory
Hariprasad Dhatchinamoorthy*
Laura Carruthers & Austin Leake
Ebony Reed & Jennifer Considine
*Top overall score
"Taking this traditional but very unique product and challenging the student to 'recreate it into something new' has been an experience for both the student and chef instructor. The 'volunteer' students have put time and thought into this challenge, all with very different results. We are proud of their efforts and believe some of their ideas are very practical and may be very possibly utilized in the workplace."
"The students duly impressed me with their excellence and creativity," added Chef Haralambatos. "Their attention to detail and flavor combinations resulted in some outstanding dishes."
---
About Kontos Foods
Founded in 1987, Kontos Foods, Inc. is a Paterson, N.J.-based provider of traditional Mediterranean foods for restaurants, hotels, food service, retail specialty stores and supermarkets worldwide. The family-owned company specializes in hand-stretched Flatbreads. Kontos, which has over 225 employees and was founded by Evripides (Evris) Kontos with his son Steven, together bring over 100 years' experience in the premium food industry. The company's bread and Fillo products are made in the USA.