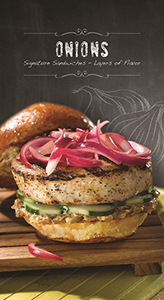 August is National Sandwich Month, and a new series of recipes from the National Onion Association features signature sandwiches with onions. Onions are the most frequently listed vegetables on menus, and one of the most popular uses is on sandwiches.
From an Onion Bleu Cheese Spread on a Chicken Cobb Club Sandwich to Pickled Ginger Onion Relish on a Wasabi Tuna Bun, this booklet includes recipes for classics as well as globally inspired sandwiches.
To receive your free booklet, visit www.onions-usa.org/foodservice.