Sunday, 02 December 2012 00:09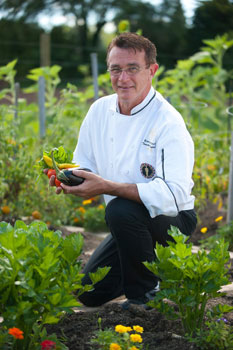 After years of working hard and plenty of time spent "doing life," retirees have earned their break. Chefs at Beacon Hill at Eastgate in Grand Rapids, Mich., uniquely meld their talents with the culinary wonders of the region and the desires of residents.
By Timothy England, CEC, AAC
It been said time and again that life begins at retirement. For many this means a time for travel, investing in family, perhaps even taking up a new hobby, or reengaging in an old one. It may mean new experiences with your bride or a time to dance with your groom again. Perhaps it is a friendship that needs nurturing or a time for your soul to rejuvenate with regular exercise.
Retirement has long since passed the time of boring days at home with little or nothing to do; menial tasks that fill the time but do little to engage the mind. With all the possibilities for adventure and new discoveries, retirees these days are known to be setting out on a new life that takes them far beyond the routine of their long, hard working years and into a world of fresh starts and checking things off that lifelong "bucket list."