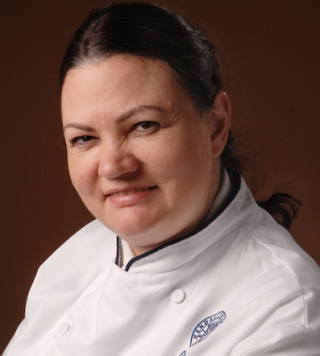 Understanding Aquafarming
28 February 2017
Training our students to include sustainability as a core concern when they source fish is a crucial component of preparing future chefs.
By Peggy Ryan, Chef Instructor, Kendall College
Growing up on a dairy farm, it was clear to me that not only was our family tied to the land, but we were also responsible for keeping it in good shape for the next generation. My upbringing also gave me a deep understanding of how livestock is raised and why we used certain methods to produce our milk. I continue to apply these lessons to everything I do today as a chef instructor for a very good reason: The processes we choose are constantly evolving based on industry best practices and we must respond as industries change.
Fish is an excellent example of an industry that has seen rapid change in the last few decades. I remember when the "Take a Pass on Chilean Sea Bass" campaign began in 2002. It became difficult to source the Patagonian toothfish because it was a threatened species, but it was still very popular among customers. When I began working at Kendall College in 2005, we continued to support the chef-led movement and didn't serve the fish. Most importantly, the campaign helped me, and many chefs across the nation, become more attuned to seafood sustainability.
Today's star fish, tilapia, is very inexpensive and tastes good—it's the chicken of the fresh water lakes. It is cheap to raise and grows in just nine months. Unfortunately, it is also very invasive and will take over a location, which means that chefs must carefully vet the producer who raises the farmed tilapia. Every purchase chefs make has an impact on the environment and ultimately on the sustainability of our natural and farmed resources.
When I focus on sustainability in fish farming during Kendall College's Fish and Sauces course, we begin by addressing the basics. Is the fish wild caught or farm raised? If it's farmed, is it in open-net pens or cages, artificial ponds, raceways or recirculating systems? Each method has its pros and cons.
Open pens, for example, typically enclose fish in ocean coastal areas or freshwater lakes, which means the fish live in a somewhat natural environment, but may spread parasites to wild populations or escape. Artificial ponds work well when it's a closed system, which means that wastewater is treated and not reintroduced to the environment. Raceways are economical, but untreated water can pollute the surrounding environment. However, government regulations help keep this method environmentally responsible.
Recirculating systems are also typically environmentally responsible since fish can't escape and wastewater is treated, but the process may lead to higher costs due to additional power use.
Finally, in addition to the preferred farming or production method, students should also learn how to source fish from certified producers. This ensures there's no pollution within the farm, which protects customers from potential contagions.
By reviewing each of these methods in detail, my goal is to educate future generations of chefs to understand the pros and cons of each method, and the different styles of fish farming so they can make educated decisions when they make purchases for a restaurant.
Aquafarming will only become more prominent in the future, which is why it's critical for students to understand they are responsible for their own ongoing education about this industry. The Monterey Bay seafood app is a great resource. I require all of my students to download it since it's so easy to find reliable information about farming processes, fish species, and to know which are flagged as over-fished (its simple system of green, yellow or red helps you identify what to buy).
The next topic to explore? What the fish eat. The Institute of Marine and Environmental Technology (IMET) has developed a vegetarian diet, which means we don't have to catch small fish to feed bigger fish. The industry is developing good farming and feeding methods, and it's our responsibility to identify the best before we make our purchases.
Understanding aquafarming is a long-term investment. We have to think of the future of the ocean and our waterways. As customer requests to eat fish increase, we have to be able to get it on our tables quickly—while making sure we're doing it correctly and sustainably.
---
Peggy Ryan, who has taught at Kendall College since 2002, is the former chef-owner of the critically acclaimed Italian restaurant Va Pensiero. Sustainability is one of her passions. She is a member of Women Chefs and Restaurateurs and a former board member of Plitt Seafood Company. She is also currently working with the Chicago Artisan Grain Collaborative to help obtain grants to promote a regenerative food system across the Midwest.
Photos courtesy of Kendall College.