Monday, 28 July 2014 21:19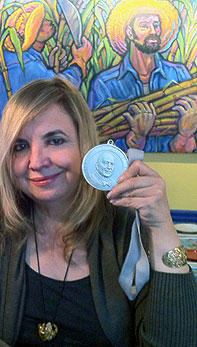 And with power comes responsibility, says this Hoboken chef, restaurateur, author, businesswoman and Latin cuisines historian.
Dr. Maricel E. Presilla, a culinary historian, author and chef specializing in the foods of Latin America and Spain, reminded graduates of The Culinary Institute of America (CIA) they are following a tradition of excellence, and with it carries responsibility. Presilla was commencement speaker at the college's Hyde Park, N.Y., campus on July 3.
"Keep your sharp knives at hand, but hold onto the wooden spoon," Presilla told 61 recipients of associate degrees in culinary arts and baking and pastry arts. "A wooden spoon becomes one with the food. It also represents the collective wisdom of grandmothers and home cooks everywhere."
Presilla is president of Gran Cacao Company, a Latin American food research and marketing company that offers cacao educational programs and premium heirloom cocoa beans. She is also chef and co-owner of two restaurants—Cucharamama, featuring artisanal South American cooking, and Zafra, a pan-Latin restaurant with an emphasis on the cuisine of Cuba, both in Hoboken, N.J. In 2010, she opened Ultramarinos,a gourmet Latin American market, bakery, chocolate shop and cooking atelier in Hoboken.