Wednesday, 04 September 2013 22:00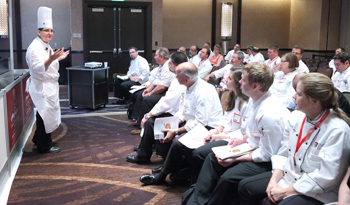 As the American Culinary Federation's 2013 National Chef Educator of the Year learned from her fourth-grade teacher, to achieve success in the classroom, a good instructor must be able to recognize the learning styles of his or her students and adjust his or her teaching style accordingly. Because every student deserves a Miss Farber.
By Leslie Eckert, CCE, CWPC, MBA
"It takes time to discover what works for you."
As a child in elementary school I learned differently from all the other kids around me. It took me longer to absorb and retain information, and I had to work twice as hard to achieve accuracy with regards to technique. I was labeled a slow learner in second grade and attended summer school just to keep up with my third-grade class. Fourth grade came like all the other grades, but I soon realized on the first day of class this year was going to be different.
Miss Farberwas an incredible teacher who made learning fun, easy and exciting, and thinking back now, her style of teaching was so different from my previous teachers. Miss Farber incorporated games, pictures, role-playing, colors and sounds in our daily learning and promoted a learner-centered classroom. It was an incredible year, and I missed Miss Farber as I entered into fifth grade, where I found myself confronted with the old style of teaching and learning. Was the magic of learning gone for good?