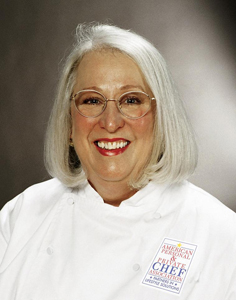 Why culinary teachers should consider operating a personal-chef business as an adjunct career. It's not only for the additional income.
By Candy Wallace
These days in foodservice we hear a lot of talk about the future, because the industry is constantly changing. The personal-chef career path might have started out as a fad in the early 1990s, but with the hard work of a small group of committed individuals, it has grown into a legitimate culinary career acknowledged by the largest organization of professional cooks in the Western Hemisphere, the American Culinary Federation. Since 2002, when I signed a partnering agreement with the ACF on behalf of the American Personal & Private Chef Association (APPCA), the ACF has certified personal chefs.
I am the founder and executive director of the largest professional personal- and private-chef trade association in the United States—and a working personal chef. Twenty years ago, many of my colleagues went on record that personal chefs were merely a fad and would never last as a legitimate culinary-career choice. Some went so far as to say that personal chefs are not "real" chefs.
Today, however, successful personal chefs are making comfortable, satisfying livings, and the vocation continues to become more mainstream each year. Personal chefs are here to stay, and this career choice will continue to flourish as more culinary and hospitality students and career-changers choose to follow their dreams of entrepreneurship doing what they love most: cooking wholesome, palate-specific food for others.