Wednesday, 25 March 2015 03:00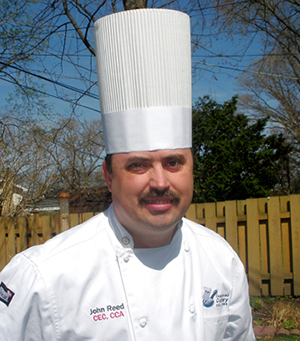 Naturally, educators must stress to their students the critical importance of proper knife skills. But, says this chef-consultant, the reality in the workplace doesn't always match what we teach. (Don't miss the YouTube video link.)
By John Reed, CEC, CCA
After addressing a group of culinary students at an ACF state competition, I sat back and thought about my words and the content.
In the skills portion of the competition, one of the four disciplines is "Knife Skills." It requires a competitor chosen randomly from each team to perform this culinary skill. The competitors must dice an onion, cut julienne and chop some tomatoes, among other things. As judges, we critique the competitors on the accuracy of the cuts and compare them to a known standard.
One of the standards is a molded plastic form with the exact dimensions of the named cuts that are mounted to a board. I describe it as the original "3D APP." You can look something up and then stick it back in your pocket. If you have ever been to culinary school or attended these competitions, you may have seen this guide or are at least familiar with the names of knife cuts that are common in a professional kitchen. In some cases, students spend hours fine-tuning their skills, such as lining up their little sticks of carrots in a row like little Napoleonic soldiers. A sight to see!