Saturday, 01 February 2014 08:00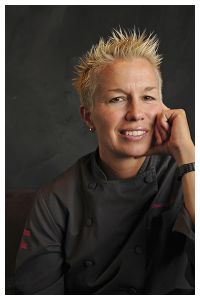 A star of such televised cook-offs as "Top Chef" and "Food Network Challenge" alerts educators that Women Chefs & Restaurateurs will hold its annual conference in Chicago during National Women's History Month.
By Elizabeth Falkner
I want to share my enthusiasm for the upcoming Women Chefs & Restaurateurs (WCR) Annual Conference in Chicago, March 9-11. The conferences have continually been a highlight to my years as a chef. Being surrounded by like-minded professional women for a few days leaves me inspired and grateful for being in this field. I've met some incredible women and have maintained long-lasting relationships.
The highlight of the conference, The Women Who Inspire Gala, is being held at the Chicago Art Institute this year, and will be emceed by Rick Bayless. We gather some of the best chefs in the community to cook for you, as well as a celebrity-chef-studded 2nd Annual WCR Culinary Challenge. This year we have Stephanie Izard, Christina Tosi and Hedy Goldsmith, to name a few.
The conference offers you a great opportunity to mingle with some of the best in the business. Have cocktails with Deanna Bayless. Ask Barbara Lynch or Gale Gand about being a chef. Talk to Nell Newman or Ina Pinkney about the business of restaurants or production. The opportunities for networking are endless.
The theme this year is the Art of Keeping It Green, Environmentally and Financially. Renowned restaurateur Rohini Dey will provide the opening remarks about women seeking financial success in the culinary world. We will be exploring green topics relevant to women and their businesses.
WCR is a great organization and becoming stronger every day. Come join us. Take a peek at the registration and you will see the wide variety of events, classes and tours that are calling for your participation. Go to www.womenchefs.org and register.
Cheers.
---
Elizabeth Falkner, executive chef of Corvo Bianco in New York City, frequently appears as a competitor and judge on TV cooking competitions, including "The Next Iron Chef, Super Chefs," "The Next Iron Chef, Redemption," "Chopped All Stars," "Top Chef Masters," "Top Chef: Just Desserts" and "Food Network Challenge." She is the incoming president of Women Chefs & Restaurateurs.