Tuesday, 01 April 2014 03:00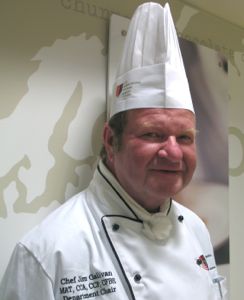 A veteran culinary educator recalls mingling among "the beautiful people" at the last annual TomatoFest.
By Jim Gallivan, MAT, CCA, CCP, CFBE
Several years ago, I agreed to write a column every two weeks for the Dover Post News. The idea was to bring up some new and intriguing food topics for the community, and to stimulate interest in Atlantic Culinary Academy in Dover, N.H., as a viable academic entity.
The first article, "Foods in the Attic," was about heirloom produce, specifically tomatoes, and was written prior to my 16th-annual pilgrimage to TomatoFest in Carmel, Calif.—the premier heirloom-tomato event in the world.
Constant readers know that I now work for The Art Institute of Atlanta. (Say "Atlanna.") And heirloom tomatoes continue the mystery. Wherever they are grown—with variants of soil, weather, water—they all implicate and intrigue. So, another journey westward for TomatoFest No. 17.
TomatoFest is an invitational event. While I reveled in being one of the 65 chosen ones (mostly chefs from the Monterey Peninsula and the Bay Area),I did enjoy being one of"Inner Circle." What that meant is that I saw colleagues from the very beginnings of the event, and enjoyed a few fringe benefits, as well.