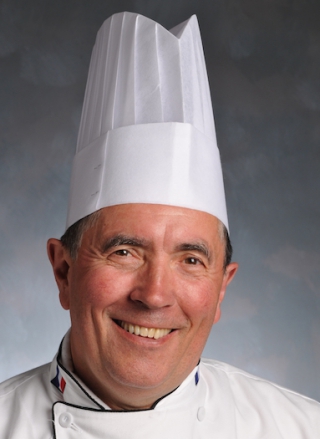 Why Sustainability Should be Every Chef's Habit
10 January 2017
As influential future chefs, current students must truly understand the basics of sustainability: reduce food, water and energy waste and maximize your use of everything at hand.
By Chef Pierre Pollin, Kendall College instructor
For me, sustainability isn't a trend or a movement gaining steam, it's the way I've always lived my life. I grew up in Normandy, France, and helped my parents tend to our family garden. We never took more than we needed and we shared produce with our neighbors. Sustainability is innate in France; everything is used to its maximum potential and nothing is discarded solely based on aesthetics—every piece of food is valuable, and its taste can be elevated. It's simply a matter of creativity.
Since moving to the U.S., I've preserved those practices. I keep bees, forage for mushrooms—which I often bring in to my students—grow several varieties of heirloom tomatoes, and at one point even had a few chickens. I strongly believe that sustainability is a principle we must all live by, but it's especially important for chefs to follow. It's the role of all educators to ensure that when students graduate, they leave not simply understanding, but knowing why they must abide by sustainable practices.
Restaurants purchase an enormous volume of food every week, every year. Chefs have a great ability to indirectly impact how local farmers grow food through their purchasing decisions. They are also responsible for using every piece of every ingredient that crosses their cutting boards.
Kendall College requires all culinary students to take a course in sustainability. In this course, and throughout the program, students learn how to apply these principles in their daily work—and realize very quickly it will endure throughout their careers.
Some of the lessons we reinforce are now what we consider common sense—like defrosting meat in a water bath instead of continuously running water over it, keeping potato skins if possible or at the very least trimming them with little waste, and using the compost, recycling and trash bins appropriately—but I am surprised each quarter to see my students so focused on learning new culinary skills that they overlook these principles.
To follow Green Seal certifications, restaurants, especially kitchens, must focus on four areas: How we procure, store and prepare food, as well as attention to the environment in which we cook.
To follow these principles at Kendall, we've revamped our kitchen so it uses compact fluorescent lightbulbs. Lights are activated by motion, which means they are frequently off. We have low-flow faucets and our walk-in refrigerators are energy efficient. All of our faculty, however, realize that no matter how many bells and whistles you install, what matters most is how you educate students to use the equipment and make the most of the products they prepare.
I never hesitate to repeat the most important points—reduce food, water and energy waste and maximize your use of everything at hand. This applies to the basics (don't boil your water too early or boil more than you need, and only preheat 20 minutes before you are ready). It also extends into every detail, from a student's approach to preparation to their creative use of the whole ingredient. Every action students take matters.
Additionally, students perform a yield test on meat, fish and vegetable products so they have not only learned, but have also mastered, the difference between usable trim, waste and portioned product (EPQ vs. APQ), a concept in every culinary math book, but one that is essential.
Beyond their energy use and approach to and use of ingredients, students must also begin to understand how influential they will be as chefs, especially once they start choosing vendors and placing produce orders. Core concerns should weight the choice of local vendors, which reduces the travel ingredients take before they are plated, and selecting seasonal food, which means less energy is used to produce it. Every chef must vet their vendors to determine the quality, desirability and cost of the ingredients they buy. It's a balance, but with a little research (and even visits to local farms), it's possible to form long-term relationships with reputable vendors that reduce costs and increase the quality of ingredients—making for happy customers.
It simply cannot be understated how important your role as an educator is, especially when it comes to sustainability. If your kitchen or restaurant isn't Green Seal certified, I urge you to pursue it, but know you must also instill these values into your students since they have the ability to become leaders in sustainability the day they graduate.
---
Pierre Pollin, who has taught at Kendall College since 2005, worked in Michelin-starred restaurants in London and Madrid before moving to Chicago in 1974 to work as the chef/proprietor of Le Titi de Paris, which he co-owned with his wife Judith until 2004.