Wednesday, 08 July 2015 07:00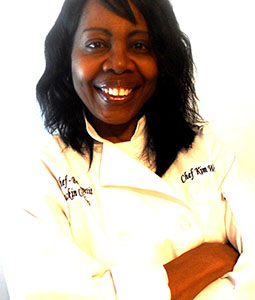 A bakery entrepreneur leaves nursing behind to enroll in an online pastry-certificate program, and the result is sweet.
Kim Washington is the perfect example of someone who has never given up on her dreams. She recently retired early from a decades-long career in nursing to pursue her passion of starting a bakery. Now with Escoffier Online International Culinary Academy's pastry certificate under her belt, she feels more ready than ever to tackle whatever obstacles may lie ahead.
Exploding Desserts LLC opened in May 2015 in South Holland, Ill. So Escoffier Online sat down with Washington to talk about what it takes to open a business, her favorite pastries to make and the No. 1 ingredient she makes sure to put in all of her creations.
Escoffier Online: You have quite a bit of culinary/pastry schooling. Why did you want to attend Escoffier Online?
Kim Washington: I was intrigued by the history of Escoffier. His name and works are mentioned in many of my cookbooks and he's quoted and fashioned after numerous times in the culinary world. Then I sought out to learn more about the online culinary school and was excited about what it offered and the fact that I could study on my own time.