Peter Mondavi, Jr., Speaks to Graduates of Two CIA Programs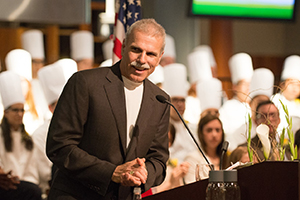 Peter "Pete" Mondavi, Jr., scion of one of Napa Valley's leading winemaking families, was keynote speaker at the March 27, 2015, graduation ceremony for the Accelerated Wine and Beverage and Accelerated Culinary Arts certificate programs at The Culinary Institute of America at Greystone in St. Helena, Calif. Mondavi advised graduates to use their newly honed skills to help people's dining experiences become a break from the fast-paced cell-phone world.
"We can't alter the pace of life here, but we can dedicate ourselves to making sure that fine food, wine and beverages are not the casualties of that pace, but a way to escape from it," Mondavi told 45 certificate recipients. "Your challenge is to find a way to bring America back to the dining table, to show Americans how to remove their electronic tethers and enjoy the remarkable cuisine and beverages that you and your fellow graduates have learned to prepare and serve."
Pete Mondavi is the third-generation co-owner—along with his father, Peter Mondavi, Sr., and brother, Marc Mondavi—of St. Helena's Charles Krug Peter Mondavi Family Winery and CK Mondavi Winery. His responsibilities include day-to-day operations such as winemaking, overseeing the vineyards and directing sales and marketing for the Charles Krug brand. With Pete Mondavi's background in engineering, the Mondavi family has long been at the forefront of innovations in the industry. The Mondavis recently completed a $4.5 million solar project to contribute to the sustainability of the vineyards.
Over the course of the CIA's eight-month Accelerated Wine and Beverage Program, students taste more than 1,000 wines in class, take dozens of field trips and learn from the college's expert wine faculty and guest speakers. Classes focus on wines of the world, sensory analysis and the professional business of wine, spirits and mixology. The Accelerated Culinary Arts Program is for graduates of college hospitality, restaurant-management, food-science and nutrition/dietetics programs. During their two semesters at the CIA, students gain the hands-on culinary knowledge and skills to tackle the "food" side of the industry.