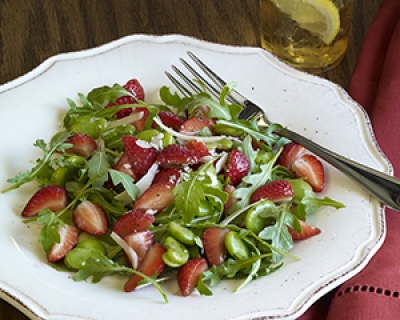 California Strawberry Commission Seeks "Berry" Good Dishes from Restaurants
Strawberries are a favorite of American diners, and operators across the country—from quick-service venues to fine-dining restaurants—use strawberries on menus in every daypart to generate orders. Guaranteed to appeal, California strawberries enhance and add value to salads, appetizers, desserts, beverages, sauces and condiments.
With such broad popularity, the California Strawberry Commission knows there are thousands of signature strawberry items on menus waiting to be discovered. So, the commission is asking foodservice pros to take a photo of their favorite strawberry dish to share—in their own operations or when dining out.
Simply take a photo of the strawberry item, then e-mail it to This email address is being protected from spambots. You need JavaScript enabled to view it.. Be sure to include your name, mailing address, the name of the dish and the name of the restaurant. Even easier, you can also post on social media using #strawberryspotting. In exchange, each month through October 30, 2015, the California Strawberry Commission will select a favorite photo, publicize it on the website and in its operator newsletter, and send a berry nice gift in appreciation. Let the strawberry snapping begin!
And don't forget another reason to use and promote California strawberries. They are grown by 400 family farmers who are good stewards of the land and leaders in water conservation, using drip irrigation to grow nearly 40,000 acres of strawberries in the state. California's moderate coastal climate allows these families to grow consistently sweet, flavorful strawberries all year ʾround.
About the California Strawberry Commission
The California Strawberry Commission is a state government agency charged with conducting research to support California's strawberry industry. With an emphasis on sustainable farming practices, the commission works with strategic partners focusing on production and nutrition research, food safety training and education, marketing and communications, trade relations and public policy.
Connect with @CAstrawberries on Facebook, Instagram, Pinterest and Twitter, or visit us at www.californiastrawberries.com.
---
PHOTO:
The sharpness of Pecorino cheese, combined with peppery arugula, complements the velvety texture of the fava beans in this colorful salad featuring California strawberries. View the recipe
here
. Courtesy California Strawberry Commission.