Penn State's School of Hospitality Management Welcomes New Director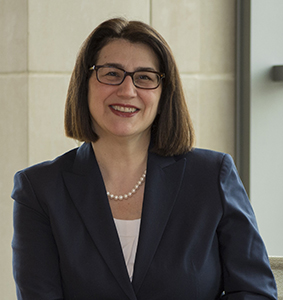 Donna L. Quadri-Felitti has been selected as the new director of the School of Hospitality Management at Penn State, effective July 2015.
"Dr. Quadri-Felitti brings a combination of academic and industry experience, which means she will do well at helping the school build relationships with industry partners and other external constituents, such as alumni," said Ann C. Crouter, Raymond E. and Eric Stuart Schultz Dean of the College of Health and Human Development. "She brings a broad perspective on hospitality from foodservice to hotels while understanding the connection between communities and hospitality."
Prior to joining Penn State, Quadri-Felitti served on the faculty of the Preston Robert Tisch Center for Hospitality and Tourism in New York University's School of Professional Studies, where her most recent post was as academic chair of the center.
Quadri-Felitti replaces John O'Neill, professor of Hospitality Management, who will lead the school's new Center for Hospitality Real Estate Strategy.
While at NYU, Quadri-Felitti developed and taught various hospitality-management undergraduate and graduate courses not only at the flagship campus in New York City, but in NYU programs in Florence and Prague. She has advised scores of undergraduate and graduate students on their individual academic, research and career development.
Quadri-Felitti's main research studies involve improving consumer experiences within a wide range of tourism products from destinations to hotels. One of her research streams centers on the comprehensive tourist experience delivered in rural wine tourism by multiple hospitality and community stakeholders. Her research has appeared in various professional outlets. A portion of Quadri-Felitti's research on rural wine tourism was supported by a USDA-funded Sustainable Agriculture Research and Education grant. Additionally, she authors a column for HOTELSmag.com and is a frequent speaker at hospitality and travel conferences on changing consumer preferences and expectations.
"My time in New York, both in the academy and industry, was a tremendous preparation for leading the Penn State School of Hospitality Management, with its extensive global reach along with its talented students, faculty, staff, alumni and advisers, who are all committed to contributing to the profession and our communities in and beyond the commonwealth," Quadri-Felitti said. "I look forward to working closely with all the school's constituencies to further its tradition of excellence and achievement."
Quadri-Felitti's industry experience includes working for some of the field's notable brands such as in marketing with Smith Travel Research, in hospitality real-estate valuation and advisory services with Horwath Landauer/Grubb & Ellis Real Estate Advisors, in development with Loews Hotels and Resorts, and in merchandising and retail services with ARAMARK, as well as early benchmarking and revenue-management startup with HotelRevMAX.
Quadri-Felitti also served as president of the Greater New York chapter of Hospitality Sales and Marketing Association International and co-chair of the International Council on Hotel, Restaurant, and Institutional Education's Annual Conference Career Teaching Academy. She was recognized as one of the Top 25 Most Extraordinary Minds in Sales & Marketing for 2012 by the Hospitality Sales and Marketing Association International and received the President's Award from the Food and Beverage Association of America.