Jacques Pépin Receives Honorary Doctorate from CIA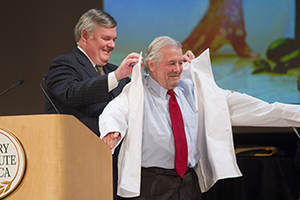 Famed chef and television personality Jacques Pépin was awarded an honorary Doctor of Humane Letters degree from The Culinary Institute of America after delivering the commencement address at the college's New York campus on May 22.
Pépin served as personal chef to three French presidents, including Charles de Gaulle, and his career in the United States ranged from cooking at some of the nation's finest French restaurants, such as New York's Le Pavillon, to being a trailblazing R&D chef for Howard Johnson's.
"Today is your day," Pépin told recipients of associate degrees in culinary arts and baking and arts. "It is a time of hope; a time to believe in yourself; a time to dare, to be curious, to be enthusiastic, to be tenacious, and to be engaged. It is a time in your life where the word 'impossible' does not exist; a time to reach for the sky."
Pépin might be best known for the Emmy Award-winning television program with Julia Child, "Julia and Jacques Cooking at Home." He has hosted several other award-winning cooking programs on PBS and his book, La Technique, was inducted into the James Beard Foundation's Cookbook Hall of Fame in 1996. Pépin is a recipient of the Beard Foundation's Lifetime Achievement Award, and he earned the highest civilian honor bestowed by his native France, the Légion d'Honneur.
In bestowing the honorary doctorate, CIA President Dr. Tim Ryan, CMC, cited Pépin's "lifelong commitment to excellence in cooking: and his "well-deserved status as an exemplar of the profession, having inspired legions to follow in your footsteps."
The commencement was held on the college's Founders' Day, the anniversary of the school's opening in New Haven, Conn., on May 22, 1946. The entire graduation ceremony can be seen online.
---
Photo:
CIA President Tim Ryan outfits Jacques Pépin with a CIA chef jacket during commencement exercises at the college's New York campus on May 22, 2015. Pépin received an honorary doctorate from The Culinary Institute of America after delivering the keynote address to graduates. Courtesy of Al Nowak/CIA