Dina Altieri Named Dean of the Kendall College School of Culinary Arts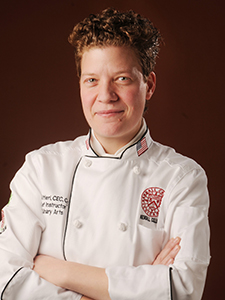 Kendall College is pleased to announce the recent promotion of Dina Altieri, CHE, CEC, CCE, to dean of the School of Culinary Arts. Previously, she was a chef-instructor and associate professor at the college for seven years.
"Chef Altieri is not only the consummate educator, but renowned nationally for her culinary and management skills in a wide range of foodservice operations," says Emily Williams Knight, president of Kendall College. "Adored and looked up to by students and admired and respected by our faculty and administration, she is the ideal dean for the School of Culinary Arts as we celebrate our 30th anniversary this year and embark on the next 30. Given her vision, passion, expertise and drive, Chicago's—and the nation's and world's—culinary community looks forward to the positive impacts her leadership of our esteemed program will make on the domestic and global foodservice industry of tomorrow."
Altieri was born in New York City and has worked in the foodservice industry for nearly a quarter century. She graduated as salutatorian from The Culinary Institute of America in Hyde Park, N.Y., in 1991, with an associate degree in occupational studies.
Building her career following graduation, Altieri cooked from coast to coast for multiple restaurants, catering operations and special events, including those of the famed James Beard House in New York and the Academy of Motion Picture Arts and Sciences in Hollywood. She worked as sous chef at Fino in Torrance, Calif., and as executive sous chef at Descanso in Hermosa Beach, Calif., before becoming executive chef at More Than A Mouthful, Inc., in Los Angeles.
Altieri entered the education side of the hospitality industry in 1997, when she began working as a chef-instructor and department chair at California School of Culinary Arts in Pasadena. From there, she went on to serve as associate dean and chef-instructor at New England Culinary Institute in Montpelier, Vt. While living and working in Vermont, in 2007 she graduated summa cum laude with a liberal-arts bachelor's degree from Johnson State College. In 2013, she received an M.S. in Higher Education - College Teaching and Learning from Walden University, graduating with summa cum laude distinction.
Altieri earned the U.S. foodservice industry's highest honor for chefs who teach—the ACF National Chef Educator of the Year Award—in 2011 following rigorous evaluation of her oratory, culinary and cooking-demonstration skills. As determined by the award's criteria, Altieri exemplifies the greatest proficiency among all foodservice educators in helping students define and develop their careers by using their skills and abilities to provide a strong foundation for their future success.
She has successfully coached Kendall student teams to win the ACF Central Regional Baron H. Galand Culinary Knowledge Bowl six years in a row since 2010, and led the 2010 and 2011 Kendall teams to national victories. Indeed, Altieri will accompany the 2015 regional finalist team representing Kendall College to the ACF's National Convention in Orlando in July to reclaim the national title.
Altieri, who resides with her family in Mt. Prospect, Ill., northwest of Chicago, is profiled in two widely acclaimed books by chef, advocate and author Ann Cooper: "A Woman's Place Is in the Kitchen": The Evolution of Women Chefs (Wiley, 1997) and In Mother's Kitchen: Celebrated Women Chefs Share Beloved Family Recipes (Rizzoli, 2005).