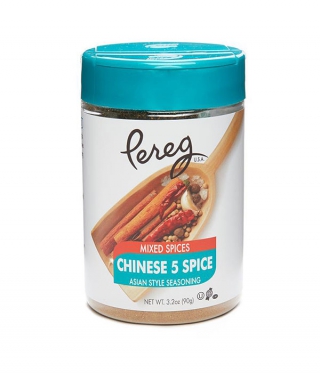 Make Spring Menus Pop with New Spice Blends
Chinese 5-Spice Seasoning and Latin Adobo Blend Make It Easy to Explore the Tastes of the World Without a Passport
The people who brought you fiery Harissa from Tunisia, exotic Moroccan Ras Al Hanout, and the sassy flavors of Cajun country are at it again. All aboard the Pereg Spice Blend Express – next stops China, Latin America, and beyond.
Pereg's ever-growing selection of international ingredients now includes 5-Spice Seasoning, an aromatic anchor of Chinese cuisine, and Adobo Blend, a zippy mainstay in kitchens from Spain and Peru to Mexico and the Philippines.
What is 5-Spice?
Nobody knows exactly how 5-spice powder came to be, although most sources point to China as its place of origin. Regardless of its lineage, everyone agrees that this happy marriage of sweet, salty, pungent, sour, and bitter has the power to elevate dishes of all kinds. Pereg's Chinese 5-Spice mix – with its balanced blend of cinnamon, anise, fennel, black pepper, and cloves – delivers an intriguing, pan-Asian complexity to braises, soups, stir-fries, and sauces. It pairs beautifully with lamb, chicken, and duck. You can even use it in cocktails!
What is Adobo?
Adobo, which originated in Spain and Portugal, wears many hats. Latin adobo usually refers to a sauce or marinade typically made from paprika and stewed chipotle chilies. However, some Latin and Caribbean countries think of adobo as a seasoning mix, either wet or dry, to rub on meat before cooking. And in the Philippines, where adobo is the national dish, it's a style of cooking in which meat, fish, or vegetables are marinated in vinegar, salt, and spices, browned in oil, and then simmered in the marinade.
Adobo seasoning is endlessly versatile. It adds a rich dimension to chicken, turkey, burgers, and your favorite chili. Use it as a dry rub for steaks and whole fish. Mix it with quinoa, add it to fish tacos, spice up your guacamole, or sprinkle it on popcorn.
---
ABOUT PEREG NATURAL FOODS
Pereg was established in 1906, and is based in Clifton, NJ. They first became known for their vast variety of pure and natural spices and spice blends, more than 60 in all, from traditional favorites to exotics from around the culinary world. Today Pereg produces an array of all-natural products that includes ancient grains and ancient grain blends, gluten free pasta, couscous, rice, gluten-free cereal and much more.
Pereg manufactures all its products from start to finish, controlling the quality from the sourcing until the product is packed and ready for the consumer. All Pereg products are kosher certified by both the Orthodox Union (OU) and CRC, are dairy and lactose-free as well as all natural, with no additives or preservatives. Many products are also certified gluten-free and non-GMO. Follow Pereg Natural Foods on Facebook.com/peregnatural, Twitter @pereggourmet and Instagram @peregnatural.