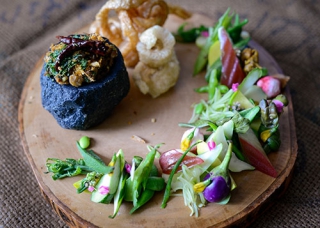 New CIA Video Documentary Explores the Food of Thailand
The Culinary Institute of America (CIA) presents the latest segment of its World Culinary Arts Video Series focusing on the cuisines of Thailand, now streaming online.
During this tasty trip, the CIA reveals the classic dishes of this Asian region that delight diners around the world. "Savoring the Best of World Flavors: Thailand" is the 13th installment in the series. The documentary explores the kitchens, night markets, and restaurants of Bangkok and Chiang Mai, as leading chefs and food authorities discuss ingredients and demonstrate culinary techniques in step-by-step detail.
The program's expert guide to Thailand is award-winning chef and cookbook author Ian Kittichai, one of the country's best-known celebrity chefs. Chef Kittichai takes viewers through this land of culinary brilliance, showing diners that Thai food is so much more than just Pad Thai.
The documentary includes recipe demonstrations by Chef Kittichai at his Bangkok restaurant Issaya Siamese Club, a trip to Thailand's Nonthaburi Market with Chef McDang, and interviews with the innovative chefs at Bo.lan and nahm. It also features an exploration of Thailand's unique northern flavors and dishes at the Four Seasons Chiang Mai's Rim Tai Kitchen.
"As always, it was a pleasure to work with The Culinary Institute of America. I am really happy that this documentary highlights a variety of Thai cuisines, regions, markets, restaurants, and chefs," said Chef Kittichai. "It's great that we were able to show more than just central Thai cuisine, which tends to be what Americans are exposed to. It was quite special to film in Chiang Mai in such beautiful surroundings with local Northern Thai chefs and also to be able to highlight some Southern Thai dishes in the program."
Winner of two James Beard Awards, the CIA's World Culinary Arts program explores the best in food and cooking around the world. The documentary series focuses on a given country or region and examines its flavors, iconic recipes, produce, specialty ingredients, markets, street food, and most celebrated restaurants. Launched in 2004, this digital media initiative is an outgrowth of the family of world flavor programs from the CIA, including the college's flagship Worlds of Flavors International Conference & Festival. From China, Mexico City, and Indonesia to Peru, Japan, Puerto Rico, and Scandinavia, viewers can explore the cuisines of more than 20 countries and regions.
---
Photo Credit: John Barkley/CIA