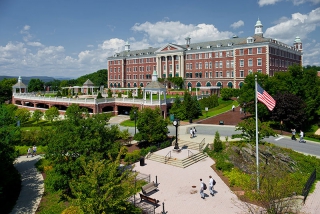 Online CIA Master's Degree Caters to Professionals Interested in Advancing Culinary Knowledge
The Culinary Institute of America (CIA) introduced a primarily online executive-format master's degree examining the business of food. The Master of Professional Studies (MPS) in Food Business allows working professionals to devote time to advancing their careers and businesses according to their schedules.
The 30-credit CIA master's degree includes 27 online credits in subjects like food systems, leadership, business fundamentals, marketing, real estate, and law—all examined through the prism of food, beverage and hospitality. Students earn the remaining credits in three short residencies at the CIA campuses in Napa, Calif., and Hyde Park, N.Y. The mid-point residency includes attendance at the influential Menus of Change® conference, presented by the CIA and the Harvard T.H. Chan School of Public Health, where MPS students will have the opportunity to connect with thought leaders and participate in a variety of sessions. And, as part of the program's capstone project, students pitch their business playbooks to leaders in the corporate and investment sectors.
A key component of the master's program includes access to an exclusive mentor network of food industry professionals—more than 40 members strong and counting. Throughout their studies, MPS students can initiate one-on-one online mentoring sessions with their choice of experts.
The structure of the program enables students to earn a graduate degree without having to move, leave a job, or have major interruption to one's work-life balance, while reaping the benefits of the networking aspects of this new offering.
The CIA is currently accepting applications for the fall 2018 inaugural class as well as students interested in beginning in 2019. More information can be found at ciachef.edu/masters or by calling 707-967-2576.
---
Photo credit: CIA/Phil Mansfield