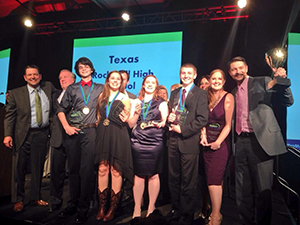 It was a familiar sight at the recent 2014 National ProStart Invitational Awards Dinner in Austin as the teams from two Texas high schools waited to hear the results after demonstrating their mastery of restaurant-leadership skills in a fast-paced culinary and restaurant-management competition.
For the second year in a row, the culinary team from The Academy of Culinary Arts & Hospitality Management at Byron Nelson High School in Trophy Club, Texas, and the management team from Rockwall High School in Rockwall, Texas, won their competitions at the Texas ProStart Invitational and represented the Lone Star State at nationals, where ProStart champions from 46 states, territories and Department of Defense bases competed for their share of a total of $3.75 million in scholarships.
The Rockwall team (pictured) repeated its state success and took first place in the management competition at the 2014 National ProStart Invitational!