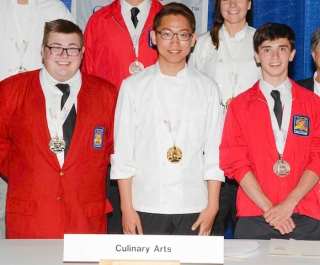 Future CIA Students Sweep SkillsUSA Cooking Competition
Recent high-school graduates who are continuing their educations at The Culinary Institute of America swept the top three spots at the 2015 SkillsUSA national championship in Culinary Arts. For their success, all three earned scholarships to the college, including a full-tuition scholarship for national secondary-school winner Hyeonseo "Jerry" Jo of Columbia, Mo.
Jo begins his CIA studies in September. (Coincidentally, last year's champion is also from Columbia. Chormaic Sullivan recently completed his freshman year at the CIA.) Second-place winner Joshua Blochowski of Maumee, Ohio, started at the CIA on July 7 with the support of a $4,000 a year scholarship. Dominic DeMuro of Elizabethtown, N.Y., earned $3,500 a year by taking third place nationally. DeMuro begins his studies at the CIA in October. 
"We are thrilled to have the top three SkillsUSA culinary competitors all enroll at The Culinary Institute of America this year," said Rachel Birchwood, senior director of Admissions. "Their excellent culinary skills combined with the education they will receive at the world's premier culinary college is a winning combination."
SkillsUSA competitions in 100 fields were held in Louisville, Ky., on June 24 and 25. In Culinary Arts, competitors prepared both hot and cold food, creating a four-course menu. Competitors were rated on the quality and flavor of their prepared items, as well as their organization, knife skills, cooking techniques, creative presentation and food-safety practices.
One current and one future CIA student each placed in the Restaurant Service category, which focuses on both technical-service skills and guest relations, involving table setup, greeting, reservations procedures, describing food and drink items, taking orders and serving and clearing multiple courses. CIA junior Jacqueline Douchette took third in the postsecondary division and Stratham, N.H.'s Christine Avery, who starts at the CIA in September, was third in the high-school competition. Each earned scholarships of $3,500 a year.
---
Photo:
The top three winners in the 2015 SkillsUSA high-school culinary competition will all be attending college at The Culinary Institute of America. They are, from left, silver medalist Joshua Blochowski (Maumee, Ohio), gold-medal winner Jerry Jo (Columbia, Mo.) and bronze medalist Dominic DeMuro (Elizabethtown, N.Y.). Courtesy SkillsUSA