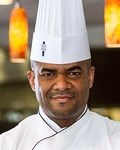 Two chefs have joined the ranks of an elite group of Certified Master Chefs (CMC) following an eight-day exam from Oct. 26 to Nov. 2. The new Certified Master Chefs are:
Jonathan Moosmiller, CMC, executive chef, Southern Hills Country Club, Tulsa, Okla.
Daryl Shular, CMC, director of education/executive chef, Le Cordon Bleu College of Culinary Arts in Atlanta
The current number of Certified Master Chefs in the United States is 68 following the exam. The last exam was held in 2012 at The Culinary Institute of America, Hyde Park, N.Y., and one chef out of seven passed. Candidates for the CMC exam must possess proficiency in a broad range of styles and techniques, and have the ability to perform for eight days under extreme pressure.