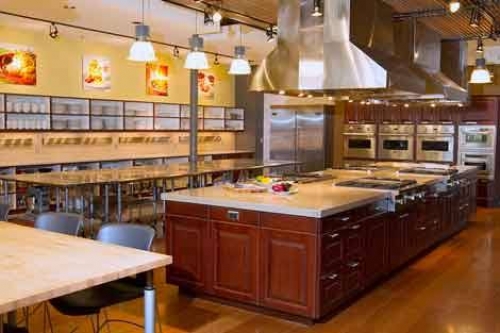 Park City Culinary Institute Debuts Six-Month Culinary Program
The Institute's unique concept forges partnerships with top food and beverage establishments to create a work exchange and giving students a debt-free education with valuable experience.
Having successfully graduated many students from its unique two-month culinary school, Park City Culinary Institute is now introducing a more comprehensive, six-month program unlike any other.
Students will complete the course debt-free thanks to a work exchange program with many of the finest restaurants, hotels and caterers in the Rocky Mountains. Park City Culinary Institute has partnered with dining establishments that will offer educational internships that serve to completely cover the cost of the $6,495 tuition within about four months. In addition to completing the program debt-free, students will have gained highly valuable work experience in real food and beverage operations, allowing them to build their culinary résumés and negotiate higher starting salaries.
"We are receiving a tremendous response for this unique approach to culinary education from both chefs and students," says Park City Culinary Institute Founder Laurie Moldawer. "Students have been graduating from culinary school overloaded with debt. It's not fair to make someone pay more for their education than they can earn when they graduate. We want our graduates to be debt-free, so we are making it possible to pay off school within four months.  The restaurants love this, because they need ambitious and trained talent, and that talent often needs money for school. It's a win-win for both students and the hospitality industry."
Highly accomplished and renowned chefs with 20-plus years of experience and their own food and beverage establishments teach the program. Students meet with farmers and artisans to learn more about the breadth of ingredients locally grown and crafted. The class is two months long, and the valuable internship four months long. Employers sponsor qualified applicants who apprentice with them, and will cover part or all the cost of tuition.
Several of the most notable restaurants, caterers and hotels in the Rocky Mountains have partnered with Park City Culinary Institute to provide internships to students. They include such notable names as Deer Valley Resort, Shabu, Cuisine Unlimited, and High West Distillery and Saloon. The school is working with other great employers, such as Grand America and Little America, on similar programs that will be announced soon.
"At a time when finding culinary-trained staff has been challenging, we love this opportunity that allows private sectors to come together to create a solution. This program offers a well-organized, thorough training school that puts students on a fast track to employment," says Maxine Turner, owner of Cuisine Unlimited.
High West Distillery Executive Chef James Dumas adds, "Park City Culinary Institute's internship program adds enthusiastic, professional, motivated individuals to the limited local workforce. It is the perfect solution to combat the demand we have for labor."  
Upcoming sessions of the Park City Culinary Institute's six-month program are February 8 to March 31, 2016 in Salt Lake City and April 11 to June 2, 2016 in Park City. Students can also attend the two-month program without participating in the internship.  Interested students may download an application at www.CulinarySchoolUtah.com or call 435.659.5075 with any questions.