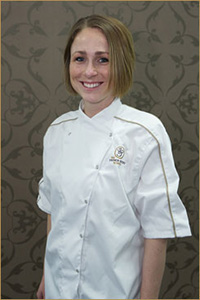 Armed with a degree in business, Katie Veile decided not to let her student loans stand in the way of pursuing her lifelong passion at The French Pastry School.
For the Love of Chocolate Foundation provides scholarships for qualified students in the specialized training of the pastry arts in the full-time programs taught by The French Pastry School of Kennedy-King College at City Colleges of Chicago.
The goal of the scholarships is to encourage and assist aspiring students, career changers and culinary-career professionals to advance their knowledge of the pastry arts. The program is specifically geared toward individuals who are in need of financial assistance. The French Pastry School's full-time programs not only train students in the art of pastry, but also educate them about the pastry profession.
The school was founded by Chefs Jacquy Pfeiffer and Sébastien Canonne, MOF, in 1995 as a resource for intensive pastry education. Today it is often referred to as the premier pastry school in the world. The French Pastry School offers certificates in Professional Baking and Pastry Arts (24 weeks), Professional Cake Decorating and Baking (16 weeks) and Artisanal Bread Baking (eight weeks).