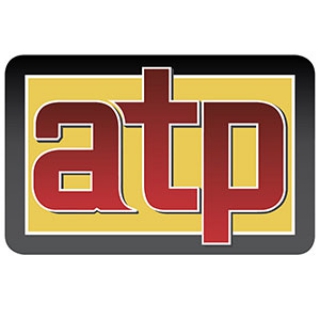 Students Rocked Culinary Proficiency in ATP Culinary Knowledge Bowl
American Technical Publishers (ATP) recently sponsored the ACF Baron H. Galand Culinary Knowledge Bowl competition.
"We are proud to be in our seventh year of sponsoring the Knowledge Bowl competition," said David Holloway, senior vice president of Business Development. "When you see the level of competition from all regions, you know the profession has a bright future."
Created in 1991, the Baron H. Galand Culinary Knowledge Bowl is a Jeopardy-style culinary competition that is open to junior culinary teams from American Culinary Federation (ACF) chapters, apprenticeship programs, and accredited schools.
This year's winners were: Kendall College in Chicago, IL (Central) coached by Wook Kang and Nelia Salvi; Utah Valley University in Orem, UT (Western) coached by Meghan Roddy and John Thomas; ACF Eastern Long Island Chefs Chapter (Northeast) coached by Andrea Glick and Sherry Mazze; and Guilford Technical College in Jamestown, NC (Southeast) coached by Patrick Sanecki and Michele Prairie.
In honor of the theme "Culinary Rock Stars," ATP gave each of the winning teams' programs a "Practice Makes Perfect Coach" kit. This kit is for teaching and demonstrating knife cuts and included a 100 percent bamboo cutting board shaped like Fender™ Stratocaster™ guitar (in keeping with the campaign theme), a copy of 50 Effective Knife Techniques, the companion Knife Techniques Videos DVD, and a 7" Santoku knife. Individual team members received a copy of The Chef's Répertoire by Gui Alinat.
To prepare for the Jeopardy-style competition, team members studied from a number of training resources, including Culinary Math Principles and Applications 2E by Michael J. McGreal CEC, CCE, CHE, FMP, CHA, MCFE and Linda J. Padilla; Culinary Arts Principles and Applications Second Edition by Michael J. McGreal; and Culinary Nutrition Principles and Applications by Linda J. Trakselis, MS, and Eric M. Stein, MS, RD, CCE. All titles were published by ATP.
About American Technical Publishers
The company was founded in Boston, Massachusetts in 1898 as American Technical Society by R.T. Miller, Jr. on the belief that "all Americans should have the opportunity to receive a high school diploma and learn the job skills required to prepare them for the working world." American Technical Publishers continues its rich history of developing and publishing leading-edge career and technical training materials, including new digital-basted ATP WebBooks™ and value-priced, print-and-digital Premium Access Packages™.
About the Baron H. Galand Culinary Knowledge Bowl
The competition is named in honor of past ACF national president Baron H. Galand, who championed junior members and encouraged them to get involved in their profession outside the kitchen. Competition questions are drawn from five nationally published textbooks for culinary professionals.