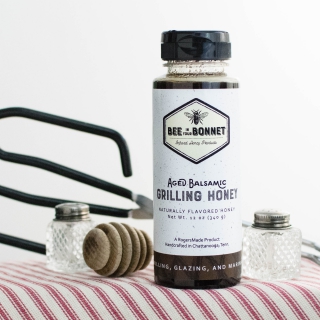 Artisan Grilling Honey Brings Sweet New Spin to Backyard Barbecues
With grilling season quickly approaching, Chattanooga-based Matt and Tiffany Rogers, co-founders of RogersMade, are proud to announce the launch of a new line of infused honey focused on educators, cooks, chefs, and grill masters alike. The couple has introduced Grilling Honey to their Bee in Your Bonnet Infused Honey Products line. Included in the new line are Southern Barbecue, Kentucky Bourbon, and Aged Balsamic in 12 ounce squeeze bottles.
"We wanted to give consumers an alternative to traditional cooking glazes and marinades. We start with honey that has been sourced from American apiaries and then we mix, blend, and layer ingredients until we have the flavor that we are looking for," says Matt Rogers, head flavor developer. "With this new line of Grilling Honey, we have given our customers a way to glaze, marinate, and finish their dishes without having to use products loaded with corn syrup, preservatives, and artificial flavors."

Since the husband and wife team launched the Bee in Your Bonnet Infused Honey Products brand, they have been dedicated to sourcing the best natural ingredients for all of their flavors. It has been a favorite in their hometown of Chattanooga, with retailers throughout Tennessee and the Southeast, and on the road at various shows and festivals including the Country Living Magazine Fairs in Atlanta, Georgia; Nashville, Tennessee; and Columbus, Ohio. They work exclusively with specially selected sustainable ingredient suppliers in order to maintain the highest level of quality and craftsmanship in each and every product they produce.

About RogersMade
The husband and wife team behind RogersMade, Matt and Tiffany Rogers, designs and handcrafts a variety of premium, small-batch consumer goods and food products. Their brands include Waxing Wistful Candle Co., Bee in Your Bonnet Infused Honey Products, Out and About Natural Insect Repellent, and Petals+Prose Stationery. Products are also available at RogersMade.com and at various retailers throughout the Southeast.
Photo courtesy of RogersMade.