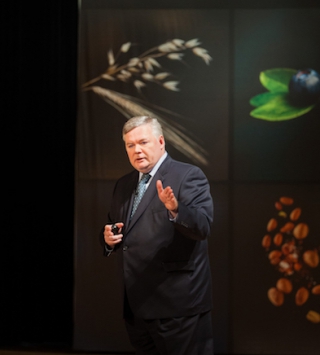 CIA President Once Again Named Among Most Powerful People in Food
Dr. Tim Ryan Recognized by Nation's Restaurant News for his Influence and Impact
Courtesy of the Culinary Institute of America
For the third time in the last four years, Dr. Tim Ryan, president of The Culinary Institute of America, has been named to the Nation's Restaurant News "NRN 50 Power List" as one of the most important people in the food and hospitality industry for 2017.
The NRN 50 Power List recognizes the people who are leading and shaping the food world. Dr. Ryan was honored in the "Influencers" category this year and also in 2016. In 2014, he made the list in the "Connectors" category.
The feature about Dr. Ryan in the current special issue of the magazine says, "For 15 years, Tim Ryan has led what is widely considered the country's premier culinary school—The Culinary Institute of America—and has solidified its reputation as a leading force in the evolving food landscape. . . [The CIA] has also prepared thousands of students for the broad career opportunities available to the modern chef. Realizing that chefs do more at restaurants than cook, Ryan and his staff have expanded instruction to include such diverse topics as culinary science, elder care, technology and business."
Dr. Ryan said, "It's fulfilling for me to lead such an outstanding team of educators during this dynamic time in food business and higher education. There are so many opportunities, so many paths for students to take—and we are gratified to know that when they leave our college, they are prepared to lead in every segment of the food world. Our graduates are shaping the way people eat and they're transforming the industry. That's a great feeling for us."
A 1977 graduate of the CIA, Dr. Ryan's unique background includes being a Culinary Olympics champion and Certified Master Chef. He also holds an advanced Ivy League degree, having earned his doctorate in education from the University of Pennsylvania. Dr. Ryan has been with the CIA since 1982, when he was recruited to serve on the faculty and develop and run the college's ground-breaking American Bounty Restaurant. He became the CIA's fifth president in 2001.
---
Photo Caption: Dr. Tim Ryan, president of The Culinary Institute of America, addresses the sold-out crowd during the 2016 Menus of Change® conference, one of several initiatives co-produced by the CIA and Harvard T. H. Chan School of Public Health. (Photo credit: CIA/Phil Mansfield)