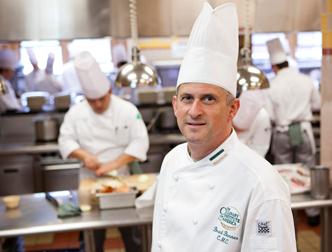 Certified Master Chef and culinary industry veteran Brad Barnes ('87), CMC, CCA, AAC, has been named senior director of continuing education at The Culinary Institute of America (CIA).
Barnes previously served as senior director of culinary education at the CIA, where he helped restructure the associate-degree programs and played an integral part in the development and implementation of the new CIA Academic Delivery System.
Working from the school's Hyde Park, N.Y., campus, Barnes will introduce innovations to the existing three-part curriculum in the department: Food Enthusiast classes, including Culinary Boot Camps and weekend classes; the ProChef® Certification program; and CIA Consulting, which offers creative marketing and menu solutions to the industry.