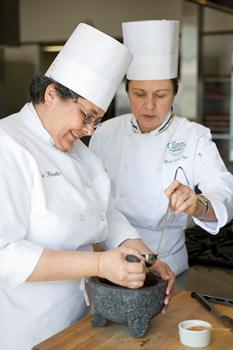 As the nation celebrates Hispanic Heritage Month, The Culinary Institute of America (CIA) is pleased to announce the creation of a new culinary-certificate program focusing on Latin Cuisines. The two-semester (30-week) program will welcome its first class of students on January 24, 2012, at the college's campus in San Antonio, Texas. The advanced program is for CIA graduates and other industry professionals with culinary-arts degrees or certificates.
The program provides a specialization in Latin American cuisines for those who already have a solid foundation in culinary arts from a previous associate degree, bachelor's degree or certificate in culinary arts. While the hands-on culinary classes will be unparalleled, the program is more than a "concentration" of classes on various Latin cuisines.
Students will learn from an expert team of faculty members that includes Elizabeth Johnson-Kosick and Iliana de le Vega, the CIA's two full-time Latin-cuisines researchers based at the San Antonio campus. Kosick and de la Vega have spent years documenting and researching many of the traditional ingredients and techniques of Mexican and Latin American cooking through their extensive travels. The chefs will feature their knowledge in their course work, while the college also brings a wide array of special guest chefs to campus to teach, as well.