CIA Team Garners Seven First-Place Awards at New York Show
The Culinary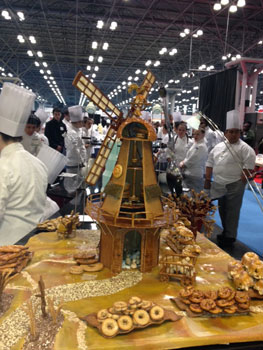 Institute of America (CIA) and its faculty earned seven first-prize awards and two Best of Show honors at the 144th Salon of Culinary Art during the International Hotel/Motel & Restaurant Show in New York City on November 12.
The CIA earned Best of Show awards for Best Sugar Display by Joseph Utera and Best Bread Display by Hans Welker. It was the second consecutive year that both chefs earned Best of Show awards at the event at the Jacob Javits Convention Center.
Additional first prizes were earned for the CIA's chocolate and confection display, as well as for its wedding cake, special occasion cake and two meat platter entries. The CIA team took a second prize in the only other category in which it competed, the four-course presentation.
"Our presence at this show is a great representation of the professionalism and talent at the CIA," says provost Mark Erickson, CMC.
In addition to Utera and Welker, CIA faculty competing included chefs Brad Barnes, Kate Cavotti, Peter Greweling, Sergio Remolina and Rudy Spiess, and Apple Pie Bakery Café head baker Justen Nickell. They were under the direction of team manager Tom Vaccaro, the CIA's dean of baking and pastry arts, and assisted by 55 students, with the support of many staff members and departments across the Hyde Park campus, from Carpentry to Creative Services.
Vaccaro noted proudly that the entire displays—from the food to the tables themselves—were developed and produced by CIA faculty, staff and students.
---
Photo: The Bread Display by The Culinary Institute of America was one of two Best of Show awards and seven first prizes won by the college's faculty at the 144th Salon of Culinary Art at the Jacob Javits Convention Center in New York City in November 2012. Courtesy of Mary Lee