Kendall College Debuts Cuisine Solutions Sous-Vide Training Kitchen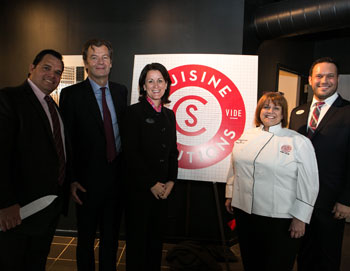 Building on its reputation for offering a professional culinary-arts program that is forward looking from the foundations of classical technique, Kendall College officially opened the doors to its new kitchen—the Cuisine Solutions Sous-Vide Training Kitchen—on October 19. The ribbon-cutting ceremony and dedication event was presided over by Kendall College President Emily Williams Knight.
The 1,300-square-foot kitchen showcase the latest in state-of-the-art sous-vide equipment, including Multivac vacuum-sealing machines and PolyScience immersion circulators. Training is delivered by skilled faculty in the Kendall College School of Culinary Arts.
As a formal partner with Cuisine Solutions and its education arm, the Culinary Research and Education Academy (CREA), Kendall is leveraging their intellectual property and expertise for the development of its sous-vide curriculum. Seasoned professionals can register for the online theoretical courses on sous vide and HACCP certification, as well as workshops with Kendall's certified sous-vide instructors.
Kendall's associate- and baccalaureate-degree students can take sous-vide HACCP certification and introductory sous-vide classes as part of the curriculum in the future. Workshop instructors include the "godfather" of modern sous vide, Bruno Goussault, founder of CREA and chief scientist for Cuisine Solutions. Initial online training will be offered in English for a domestic audience with programs in additional languages such as French, Mandarin and Spanish being made globally available in 2013.
"Our new Cuisine Solutions Sous-Vide Training Kitchen is the latest example of Kendall College's commitment to our students, their future employers and everyone who works in the world of food," says Renee Zonka, RD, CEC, CHE, dean of the Kendall College School of Culinary Arts. "By offering comprehensive training in sous vide for our students and foodservice and food-manufacturing personnel, the Kendall College School of Culinary Arts continues its tradition of preparing students and professionals in the latest techniques in culinary arts."
The cooking technique of sous vide—French for "under vacuum"—vacuum seals food in a specially designed pouch and then slowly cooks the sealed food in water at precision temperatures. The method produces consistently excellent texture and flavor, maintaining the nutritional integrity and safety of the food.
Formal training in sous vide is heavily regulated by health departments because its exacting food-safety demands must conform to Hazard Analysis Critical Control Points (HACCP) standards. As a result, professional culinary-arts higher education and training programs have not had the experienced faculty, equipment or funding to offer programs in the sous-vide process.
"This is a major development, not only for us, but for culinary students, professionals and the industry in general," says Gerard Bertholon, corporate chef and chief strategy officer of Cuisine Solutions. "The relationship between Cuisine Solutions and Kendall College will combine four decades of sous-vide know-how with one of the best culinary schools in the world. We can now offer our customers and culinary enthusiasts around the world access to cutting-edge sous-vide training online."
For more information on the sous-vide training classes at Kendall College, visit http://sousvide.kendall.edu and view a video at http://youtu.be/dmlouS1RudY.
---
Photo (l. to r.): Felipe Hasselmann, president of Cuisine Solutions; Stanislas Vilgrain, chairman & CEO of Cuisine Solutions; Emily Williams Knight, president of Kendall College; Renee Zonka, RD, CEC, CHE, dean of the Kendall College School of Culinary Arts; and Joe Monastero, director of Food & Beverage Event Operations at Kendall College.