Kendall College's Hedeker Earns Master-Baker Certification from RBA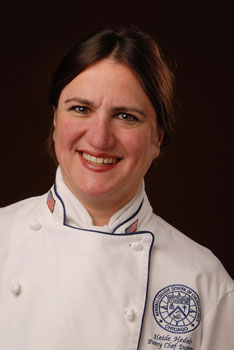 Kendall College is pleased to announce that Heidi Hedeker, MA/MSW, a baking and pastry instructor and assistant professor in the School of Culinary Arts, earned her master-baker certification (CMB) from the Retail Bakers of America (RBA) during practical testing at The Culinary Institute of America in Hyde, Park, N.Y., in October. She is the second CMB teaching at Kendall College.
Hedeker's most-recent accomplishment makes her one of only 169 Certified Master Bakers in the United States. In addition to Hedeker, Kendall College is also home to CMB baking and pastry instructor Melina Kelson-Podolsky, who earned her master-baker certification in 2008.
A CMB must have deep expertise and proven skills in a broad range of baking environments, as well as the technical and administrative ability needed to operate and manage the production area of a full-line independent or in-store commercial bakery. The rigorous requirements, which include the principles of sanitation, food management, retail sales and merchandising in addition to the fundamentals of high-quality baking, make the CMB designation one of the most challenging in the culinary field.
Hedeker grew up working in her family's Gladstone Park Bakery on Chicago's northwest side. After graduating summa cum laude from Johnson & Wales University in Providence, R.I., which included a pastry externship in Switzerland, she began her professional career as assistant pastry chef at Chicago's Swissôtel. She later opened Alliance Bakery, which was named Wicker Park's "Best Retailer of the Year-2000."
Hedeker joined the faculty at Kendall College in 2004. Armed with a master's degree in social work from the University of Chicago, she has represented Kendall as a volunteer working and teaching at Chicago Lights Urban Farm since 2009 and has served on the farm's advisory board since 2011. Additionally, Hedeker works with Thresholds, the largest and oldest provider of mental-health services in Illinois, on its "Mother" project—a therapeutic baking program to help new mothers with relationship issues. And, she assists Chicago House Agency with a work-therapy program that helps employment-challenged individuals learn new behaviors and skills so they can earn and keep meaningful jobs in foodservice.
"Speaking on behalf of the administration at Kendall College and the entire faculty in the School of Culinary Arts, we could not be more proud of Chef Hedeker's latest achievement," says Dean Renee Zonka, RD, CEC, CHE. "Today, Kendall College is even further distinguished among professional foodservice-training programs nationwide thanks to Chef Hedeker's extreme talent and dedication to teaching her craft coupled with her extraordinary vision for helping others grow personally and professionally."
Founded in 1918, the RBA, a 501(c)6 not-for-profit trade association, is committed to the success of the retail baking industry. RBA certification raises professional standards and verifies the knowledge, skills and abilities professional bakers bring to the marketplace while increasing job opportunities and income for certified bakers and decorators. For more information, visit www.retailbakersofamerica.org/certification-program.