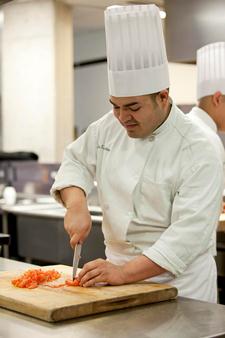 Sodexo, the leader in Quality of Daily Life Solutions, has pledged a gift of $150,000 toward scholarships at The Culinary Institute of America (CIA), San Antonio. The scholarships will provide additional educational opportunities for Hispanic students who aspire to be the foodservice leaders of tomorrow. Sodexo is also establishing a new paid externship for students at the college's San Antonio campus.
The newly established Sodexo Scholarship Fund will provide two scholarships a year for the next three years for qualified Hispanic students. One scholarship is for new students who enroll at the CIA San Antonio. The other will help current students demonstrating financial need, who maintain a minimum grade point average of 3.0. In addition, Sodexo is creating an externship beginning in 2012, for CIA San Antonio students to complete the required field experience to earn their associate degrees.
"Sodexo is proud to be able to assist talented individuals who otherwise might not be able to access the world-class education The Culinary Institute of America provides," says Lorna Donatone, chief operating officer and education president for Sodexo. "This is a win-win for the students and Sodexo, because our company will now have a wider and more diverse group of talented CIA graduates from which to recruit our future leaders."
Sodexo has a long relationship with the CIA, including participating in the college's quarterly career fairs to hire students for externships and management positions throughout the company. As part of this gift, CIA Career Services will work with Sodexo to create a customized employee recruitment plan.
---
Photo: Hispanic students have greater opportunities for career advancement in the foodservice industry with the help of Sodexo Scholarships at The Culinary Institute of America, San Antonio. Courtesy of CIA/Keith Ferris.