New England Culinary Institute Executive Chef Recognized as Partner and Alumnus of CREA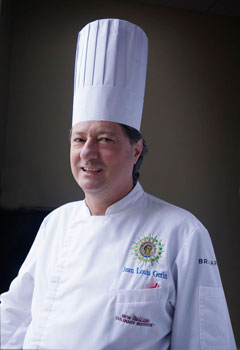 The New England Culinary Institute, Montpelier, Vt., announced Nov. 1 that its vice president of culinary operations and executive chef, Jean-Louis Gerin, has been recognized in the premiere listing of Partners and Alumni of the Culinary Research and Education Academy (CREA).
The slow-cooking revolution was launched when CREA was founded in Paris more than two decades ago by French biochemist and food lover Bruno Goussault. Since then, the school has trained chefs from some of the world's most celebrated restaurants in the art and science of sous vide. It's changing the way the world cooks and the definition of fine dining.
Sous vide, French for "under vacuum," is a method of cooking food sealed in airtight plastic bags in a water bath for longer than normal cooking times—72 hours in some cases. It requires an accurately regulated temperature much lower than normally used for cooking, typically around 55°C (131°F) to 60°C (140°F) for meats and higher for vegetables.
With the establishment of CREA in Paris in 1991, Goussault made the first step toward elevating sous-vide cooking from boil-in-bag to haute cuisine. The technique was already being used in commercial food production, but CREA introduced the theory and technology to top chefs. Particularly in the last decade, CREA has helped reinvent sous vide and redefine the way food is prepared at the world's finest restaurants.
Gerin, along with other culinary legends and chefs from around the world, has received training in the art and science of sous vide from CREA. "The fascinating result of studying with Bruno Goussault is that your mind is authorized to think differently," he says. "I find myself addicted to sous vide for the satisfaction and excitement of learning how a specific food will react."
Gerin joined the New England Culinary Institute earlier this year. Founded in 1980, NECI is widely recognized for its innovative immersion style of education featuring small classes, hands-on learning and personal attention. Its graduates are sought the world over for their level of skill and preparation. For more information, visit www.neci.edu.