The Culinary Institute of America Announces New Major in Culinary Science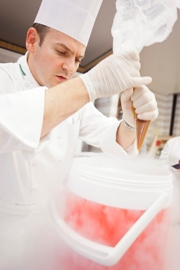 The Culinary Institute of America (CIA) is launching a new major in Culinary Science beginning in February 2013—one of a series of new academic programs in bachelor's-degree studies at the college. The programs will advance the culinary profession and position CIA graduates for career success in the dynamically evolving foodservice industry.
"This innovative program will further prepare CIA students to shape the future of cooking and the foodservice industry," said Dr. Tim Ryan, CMC, president of the CIA. "And more specialized studies are in development. We are expanding the scope, depth, and diversity of our students' knowledge base, so that their leadership as graduates will extend in all sectors of food and hospitality."
The Culinary Science degree will be taught at the CIA's Hyde Park, N.Y., campus. The curriculum will include such advanced techniques as precision temperature cooking and other advanced culinary techniques made possible through emerging technologies and scientific discovery. Students will learn directly from leaders in the culinary-science field about the scientific method and the use of modern techniques and equipment. They will discover new ingredients; experience product development, including sensory and flavor evaluations; and gain critical-thinking skills and science-based knowledge that will help them become industry innovators.
There are good economic reasons for students to pursue a degree in Culinary Science, as research-and-development chefs have some of the highest salaries in the food world. They are highly sought after, both for the innovations they provide and the money they save businesses.
The program is for bachelor's students at the CIA who will earn a Bachelor of Professional Studies (BPS) degree in Culinary Science.
For more information about the Culinary Science degree program at the CIA, visit www2.ciachef.edu/BPS/degrees/CS.html.
---
Photo: CIA Professor Francisco Migoya working with liquid nitrogen. Advanced culinary techniques made possible through emerging technologies are a major part of the curriculum of the college's new Culinary Science major. Courtesy of CIA/Phil Mansfield.