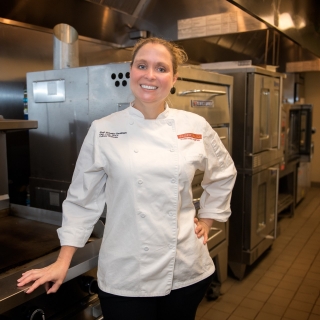 Teaching Taste Beyond Flavor
06 December 2021
Teaching students how to articulate and relate the differences in how food tastes, smells and feels.
By Dr. Jennifer Denlinger, CCC, CHEP
Feedback & comments: This email address is being protected from spambots. You need JavaScript enabled to view it.
An instructor's job is to help develop their students' culinary skills and abilities. One important lesson centers around what items are supposed to taste like and how to describe them.
Teaching taste beyond flavor is a difficult subject. As we know, taste is affected by sensations in the mouth, smell, temperature and so on. There is a challenge teaching students to describe the difference between peppermint and spearmint or bitter and sour. Or helping students understand that determining a scent is similar to detecting taste and these two experiences are intertwined. It is a complicated subject for sure.
Here is an activity that can help students begin the journey of learning how to taste. At the end of the lesson, I have the students do a mystery basket activity trying to incorporate some of the knowledge they just learned. As you know, students can only learn these ideas through repetition. The lesson is easily modifiable to fit your classroom.
Teaching students how to articulate and relate how different foods taste is fun for them and you. Believe it or not, they love this activity so much!
Attachments:
Elements of Taste and Flavor PowerPoint: A 49-page instructional lesson describing the five basic tastes, many taste factors and elements, aroma perception and much more.
Tasting Lab Order Worksheet: An excel spreadsheet to help you compile how much of each ingredient the lesson requires.
Understanding Taste Worksheet: A worksheet given to students to record their experiences and tasting notes.
Tasting Lab Instructor Notes: Detailed instructions about equipment and ingredients needed for the lesson.
Also, you can purchase culinary aroma vials here https://www.educatedpalate.com/
---
Chef Jennifer M. Denlinger, PhD., CCC, CHEP, is the Culinary Management Program Department Chair at the Poinciana Campus of Valencia College. She is also the vice president of ACF's Central Florida Chapter. Additionally, Chef Denlinger earned the 2020 Innovation Award, sponsored by CAFÉ and the Idaho Potato Commission, for a creative escape room based on safe food handling procedures. She also earned the 2021 Green Award sponsored by the United Soybean Board and was runner up in 2021 for the Postsecondary Education of the Year sponsored by Sysco Corporation.