Monday, 01 June 2009 00:05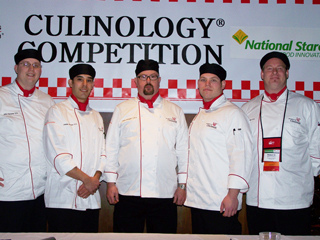 The third-annual Student Culinology® Competition at RCA's 2009 conference exemplified the blending of culinary art and food science.
An enthusiastic student team from University of Cincinnati took first-place honors, along with a $5,000 cash award and industry-wide recognition as rising stars in food-product development, at the third-annual Student Culinology® Competition, May/June 7, during the Research Chefs Association's (RCA) 2009 conference at the Sheraton Dallas Hotel. The award was presented by Agnes Jones, principal culinologist at National Starch Food Innovation, at the 2009 RCA Annual Luncheon, where nearly 500 food-product-development professionals gather each year to celebrate industry achievements.

The competition is designed to challenge and recognize the industry's young talent in the Culinology field–the blending of culinary arts and food science.
The winning team from UC was led by faculty advisor Christopher Keegan, CEC, senior research chef at Cargill Flavor Systems, and team leader Christian A. Serrato, CC. Team members included Robert Coltrane, CC, John Parsons, CC, and Andrew Scholle, CC.