Tuesday, 24 July 2012 11:44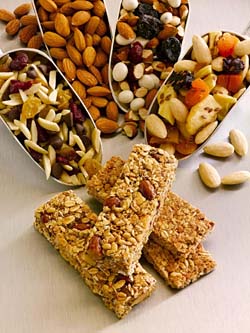 Measuring digestibility, researchers find almonds provide 20% fewer calories than labels state. The results might have implications for other foods, as well.
A study conducted by scientists from the United States Department of Agriculture (USDA) and released in the August issue of American Journal of Clinical Nutrition (AJCN) provides a new understanding of almonds' calorie count, showing that whole almonds provide about 20% fewer calories than originally thought.
At first glance, the study results beg the question: How can a food's calorie count suddenly change when the composition of the food itself hasn't?
The answer is that David Baer, PhD, and his team from the USDA's Agricultural Research Service (ARS) used a new method of measuring the calories in almonds, which built on traditional methods and allowed the researchers to determine the number of calories actually digested and absorbed from almonds. Resulting data showed a 1 ounce serving of almonds (about 23 almonds) has 129 calories versus the 160 calories currently listed on the Nutrition Facts Panel. The results might have implications for certain other foods, as well.