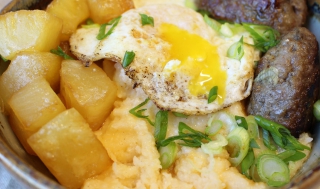 Dole® Flavor Pairings Celebrate the One-Bowl Meal
Dole showcases winning fruit-flavor combinations in three menu parts - all served in bowls.
Now in its seventh year, the annual DOLE® Flavor Pairings is a prediction of exciting flavor combinations currently reflected in popular trends. For 2017, the Dole Foodservice team identified the ubiquity of bowls on foodservice menus, and devoted its culinary creativity to bringing operators the best and brightest contemporary ingredient and flavor combinations served in a bowl.
To create recipes across the vast scope of possibilities, the Dole Kitchen identified six menu parts, and assigned each with three fruit-flavor combinations. The result: the 2017 DOLE Flavor Pairings will bowl over chefs with a buffet of fruit-forward ideas served in America's favorite container.
Breakfast: Mango and Chia, Peach and Potato, Pineapple and Pork
Lunch: Mango and Fish, Cherry and Farro, Blueberry and White Beans
Dinner: Mango and Rice, Apple and Noodles, Peach and Minced Meat
Shareables: Mango and Avocado, Peach and Chickpeas, Apple and Yogurt
Salads: Strawberry and Parsley, Mandarins and Spinach, Blueberry and Grains
Desserts: Cherry and Eggs, Berry and Dairy, Mango and Citrus
Read more about the 2017 DOLE Flavor Pairings and the ingredients that inspired this year's featured recipes at www.dolefoodservice.com.
---
Photo courtesy of Dole Foodservice.