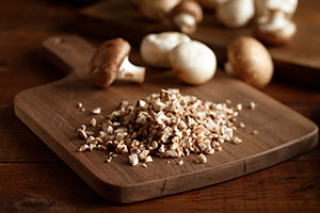 Meat. Meet Mushrooms.
05 May 2017
Join the growing blenditarian movement; blend chopped mushrooms with meat for a menu item that is more delicious, nutritious and sustainable.
By Steve Solomon, Foodservice Outreach Director for The Mushroom Council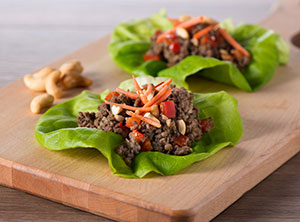 For the past several years, chefs have faced increasing pressure to serve healthier and more sustainable meals that still taste delicious. The Blend, or the culinary technique of blending finely chopped mushrooms with ground meat (such as beef, turkey, chicken, lamb, veal), was created by culinary leaders to solve this challenge and it is now gaining momentum nationwide.
The Blend can be adopted by everyone from experienced chefs to home cooks. When you finely chop mushrooms to the basic consistency of ground meat, they cook, perform and taste just like meat.
The Blend is an educational initiative developed in partnership with the Culinary Institute of America and the Healthy Menus R&D Collaborative. This group convenes to address important nutrition concerns that face the foodservice industry like strategic calorie design, adding more produce to the plate and lowering sodium. By using the principles of umami and the synergistic relationship between meat and mushrooms, this group was able to develop a formula for healthier menu items—from burgers and meatballs to meatloaf and tacos.
The Blend concept is an example of how innovative and strategic culinary insights can be used to address the important health and environmental issues that face the foodservice industry.
The Concept Takes Hold Nationwide
The Blend is trending in restaurants, universities, K-12 schools and home kitchens nationwide, evolving from a grassroots initiative to a true movement.
Chefs and menu developers in a myriad of foodservice channels have taken on The Blend. Universities including Harvard, Yale and University of Southern California have incorporated The Blend technique. Approximately 20 percent of public schools nationwide serve blended burgers, and in many cases it is the primary burger served saving hundreds of thousands of calories while helping the environment.
Additionally, over the past two years more than 500 restaurants have menued The Blend as part of the James Beard Foundation's Blended Burger Project, a summer competition challenging restaurants nationwide to menu and serve a blended burger. Consumers across the country voted more than 2 million times for their favorite burger during the competition while enjoying blended burgers in restaurants operated by chefs featured on national television shows, hotels, burger joints, upscale hotels and food trucks.
Cedar's Café in Melbourne, Fla., was among the five winning restaurants in last year's second annual Blended Burger Project. "Shortly after the debut of our blended burger, we had lines of people eager to try it – some patrons coming in almost every single day," said Cedar Café's Chef and Owner Toni Elkhouri. "In the end, our little 30 seat (48 if you count outside) restaurant made over 2,000 burgers in two months! We sold 600 blended burgers during our burger bash week alone, all while still offering our regular menu."
According to a recent consumer study, 98 percent of those who have tried The Blend plan to continue ordering and making foods that mix mushrooms with meat, proving that this trend is only going to grow.
Better for Health
Many consumers want to eat better but have a challenging time finding healthy foods without sacrificing flavor. With The Blend, the addition of finely chopped mushrooms to ground meat can reduce fat and calories while still maintaining the meaty flavor consumers love. The benefits of blending mushrooms with meat include:
Trimming calories and fat: Mushrooms are naturally low in calories, fat free and cholesterol free. Eating a burger or other foods that are blended still provides consumers with the full, meaty flavor while being more healthy.
Reducing sodium intake: Excessive levels of sodium increase the risk for high blood pressure, stroke and even kidney disease. When you combine mushrooms and meat, the mushrooms act as a flavor carrier delivering that satisfying umami punch, which means you can use less salt and reduce sodium.
Adding nutrients: Offering beneficial nutrients such as Vitamin D, selenium and B vitamins, mushrooms are a nutrient powerhouse with each mushroom type providing its own health benefits.
Greg Denton and Gabrielle Quiñónez Denton, 2017 Blended Burger Project participants from Portland, Ore., said, "Grinding mushrooms into our beef adds hearty flavor while yielding a more healthful product. We are honored to join the Blended Burger Project in the search for that craveable, more sustainable burger that not only stands up to a conventional burger, but makes it better."
Better for Flavor
Another benefit of The Blend is that the combination of mushrooms and meat amplifies the flavor. This simple blending strategy plays on mushrooms' compatibility with meat in terms of taste and texture. Consumers get a juicier, more savory and delicious eating experience with amped up umami flavor.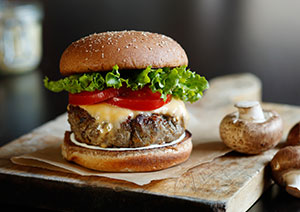 Award-winning chef, author and Top Chef Judge and 2016 Blended Burger Project participant, Hugh Acheson says, "The meaty, umami qualities of mushrooms make them the perfect ingredient to boost a burger's flavor - and their nutritional and environmental qualities make a great burger even better."
A study from the Culinary Institute of America and University of California-Davis, published in the Journal of Food Science, explored the flavor-enhancing properties of mushrooms found in a traditional ground meat recipe prepared with 50 percent mushrooms and 50 percent meat can enhance the overall flavor due to double the impact of umami.
Better for the Planet
The Blend also is an environmentally friendly dish, with recent research finding mushrooms among the most sustainably-produced agricultural products in the United States.
According to the recently released Mushroom Sustainability Story, developed by SureHarvest to measure mushroom production resources, it requires only 1.8 gallons of water and 1.0 kilowatt hours of energy to produce a pound of mushrooms, while generating only .7 pounds of CO2 equivalent emissions. Mushroom production also uses very little land -- up to 1 million pounds of mushrooms can be produced on just one acre. In addition, the mushroom industry is a major recycler of agriculture waste.
Chef Nikki Newman from Coastal Grill in Oxnard, Calif, noted: "Fantastic cause. Providing yet another sustainably-sourced ingredient on our menu (local mushrooms), while reducing the amount of beef found on our menu and cutting back on our footprint."
"Sourcing sustainable products is a must for us," said 2016 Blended Burger Project participant, Chef Eric Damidot from Vitascope Hall in New Orleans. "The more we can educate our local community, the better. The question really was, 'Why not do this?'"
The Blenditarian Movement
The blended burger was the catalyst and now the Blenditarian movement is gaining traction. Blenditarians, or those who have adopted The Blend, are popping up across the country.
To capture the growing excitement behind this movement, The Mushroom Council has created a new website, www.blenditarian.com, to unify The Blend's audience with recipes, nutrition facts and sustainability information.
"Over the past year, The Blend has transformed from a trend into a movement, with excitement spreading from chef to chef, school to school and consumer to consumer," said Bart Minor, President of the Mushroom Council. "Every movement deserves a name and a home. We're excited to introduce Blenditarian.com for people to not only join a like-minded community, but also share and define what it means to be a blenditarian."
People are more concerned than ever with health and sustainability, and The Blend is a culinary technique that addresses and helps solve these concerns. It is a plant-forward way to help change our food system. Chefs, guests, universities, schools and top publications all know that "the trend is to Blend."
To learn more about this growing culinary technique and to pledge to join the blenditarian movement, visit blenditarian.com.
---
Photos courtesy of The Mushroom Council.